Part 3 - The RAAF in Switzerland
Evaders and Internees
According to Swiss Records the following Australian Airmen were POW evaders:
Entered Left
416083 W/O David Wright Baxter 460 Sq RAAF: 13.03.44 - 04.09.44
11854 W/O Richmond Blumer 91 Sq RAAF: 13.03.44 - 13.09.44
426306 F /S Colin Argyl Campbell 467 Sq RAAF: 01.02.44 - 18.08.44
A407 F/Lt Geoffrey Talbot Chinchen RAAF: 18.11.43 - 26.08.44
142445 F/O Antony Darcey 460 Sq RAAF: 01.03.44 - 04.09.44
20761 F/O Fred Felix Eggleston RAAF: 20.09.43 - 25 .01.45
?81832 F/S John Allan Hammond 408 Sq RAF: 01.03.55 - 04.09.44
402462 F/Lt Robert John "Fred" Jones RAAF: 08.10.43 - 04.10.44
A726 F/Lt Robert Sydney Jones RAAF: 19.09.43 - 24. 08.44
418435 F/S Charles Henry Kroschel RAAF: 24.07.43 - 04.10.44
414913 F/S Kenneth "Shorty" Lear RAAF: 01.10.43 - 04.10.44
408881 F/Lt Bruce Arthur Simpson 467 Sq RAAF: 02.05.44 - 27.08.44
8931 F/S Leslie Robert Simpson RAAF: 22.02.44 - 19.06.44

(This data was abstracted from lists typed on very thin paper and may not be entirely accurate as to service number, rank, name and unit).

Three RAAF air-crew were lost while being transported as POW from North Africa to Italy. Lost when the "Nino Bixio" was torpedoed were:
404635 F/S Edward Austin Jones, RAAF, 31, of Rockhampton, Queensland.
400351 F/S Kenneth Stewart McDonald, RAAF, 30, of Port Fairy, Victoria.
Lost when the Dutch "Jason" (re-named "Sebastian Venier") was sunk, was
400833 F/O David Potter, RAAF, 26, of Armadale, Victoria.
On the night of 27/28th April, 1944 a Lancaster bomber from 35th Squadron, a part of No 8 Group Pathfinder Force returning from a raid on Friedrichshaven, was forced to ditch in Lake Constance, part of the border between Switzerland and Germany. Its crew of 7 included four Australians:
415755 F/S Murray Bartle - Wireless Operator
413835 P/O Noel Davis - Bomb Aimer and Radar Navigator
F/S Geoff Foulkes - Navigator (KIA)
A419 W/O Bob Peter - Pilot
The three surviving Australian crew members were interned when they landed on the Swiss side of the lake, while Geoff Foulkes was buried in the Swiss cemetery at Vevey. The wounded Bob Peter was soon repatriated in an exchange of POW with German airmen. Murray Bartle and Noel Davis were interned at Adelboden where the increasing number of American airmen arriving in Switzerland were being interned. Their story is given in some detail as it well illustrates the difference between evaders and internees.
Thus there were 13 Australian airmen evaders and 3 internees to reach Switzerland.
While most of the Australian escapees in Switzerland who were captured in the Middle East (including 4 RAAF members) had spent 2 years or so in POW camps, the RAAF air crew who were shot down over Europe and either crash-landed on Swiss soil or were smuggled there by various resistance organisations, did not suffer long confinement and were trained and ready to resume active combat. Under the Geneva Conventions, escapers could do this, but internees could not.

Nevertheless, the pragmatic Swiss turned a blind eye to this distinction.
Pilots were in particularly high demand by all warring airforces and many, especially recent arrivals such as Bob Peter were "swapped" with German pilots.
When the liberation of North West France had been achieved by the American Fifth Army, and the border crossing at La Pointe at Geneva was re-activated, the Swiss made arrangements to repatriate all their Allied evaders from Switzerland through the American lines, either to Grenoble or Naples. Air Force personnel were given priority.
But many airmen internees, particularly the Americans, chafed under their restrictions and when their army colleagues opened up the border at Geneva after liberating French Savoie, some "jumped the border" in civilian clothes to link up with their compatriots. Even some of the Australian airmen evaders unaware of the essential differences between the Geneva and the Hague Conventions, illegally left Switzerland in this manner as was pointed out to Noel Davis in his de-briefing session with RAF officers at Kodak House in London.
The Swiss were not alone in their pragmatic attitude to the "niceties of war" - by the end of 1944 only a handful of the 5,139 British POW evaders in Switzerland remained there, for one special reason or another.
The British evader airmen were centred around the Hotel Bellevue at Glion, a ski resort above Montreux, while Australian army officers were mainly located in Arosa, another famous Swiss ski resort. In Glion both Officers and NCO evade airmen were quartered together, but in Adelboden, British internee airmen were separated in different hotels. When Noel Davis, who was a F/Sgt when W/O Bob Peter crashlanded their Lancaster, was commissioned, he had to leave his hotel and friends to go to another one, (but still in Adelboden) which was for commissioned officers only (see story of "R for Robert" below).
The story of the Alpine Airmen make a considerable contribution to this Compendium, not only for the intrinsic value of their own escapes, but for emphasising the equally intrinsic differences between the Geneva and the Hague Conventions and the differences of rank between commissioned and non-commissioned POW.
Some of their individual stories follow:
411854 W/O Richmond Antony Blumer
A Spitfire pilot, Tony Blumer was seconded from the RAAF to 91 Squadron, known as the Jim Crow Squadron.
He was shot down twice. The first time over the English Channel where he was promptly fished out of the water and returned to base. And the second time over France where he wandered around until finally being guided to the Swiss border by members of the local resistance. He then had to reach that country's neutral territory by swimming an icy river, from which he was again fished out by a kindly Swiss, who provided him with warm civilian clothes. He was thus classified by the Swiss as an evader and was placed in the British airman's "camp" at Glion.
When the Swiss border at Geneva was opened he resumed contact with the French resistance and was smuggled down a safe route to the Spanish border when his luck temporarily deserted him and he was re-captured by German troops. But he was able to escape again and eventually make it back to England.
His brother Alex, also a Spitfire pilot, had been on operations in the Middle East, and was notified that Tony had been posted as "missing, believed KIA".

In his turn he was shot down and bailed out over Anzio beach during the American invasion of Southern Italy. Badly wounded, he was well looked after by the Americans in their hospitals there and eventually put on a hospital ship and returned to England.
By an amazing coincidence, on his first leave from an English Convalescent Hospital he went up to London and ran into his brother Tony at Australia House. Neither brother could really believe it!
After a wonderful leave together, with more than a passing acquaintance with the girls from the "Windmill Theatre", Alex had to attend his brother's funeral. On his return to England after his sojourn in Switzerland, Tony had re-joined his squadron and was engaged in shooting down V1 flying bombs, when one exploded near his plane when returning to base and he dived straight into the ground.
Alex was then with 453 Squadron based at Hornchurch but returned with another squadron to the Middle East and after operations over Tunisia, Malta, Sicily and Italy, returned to Australia to the Pacific theatre of operations and war's end found him in Balikpapan in Borneo. He finished up flying Mustangs up to Japan before eventually receiving his discharge.
Acknowledgments and thanks to Alex Bulmer
426306 F/Sgt Colin Argyl Campbell
Colin Campbell was a mid-upper gunner on Lancasters of 467 Squadron RAAF. The pilot of his particular Lancaster was F/Lt Bruce Simpson.
"On the way to Nuremburg on the night of 30/31st March, 1944 at 00:30 hours we were attacked by a fighter, presumably an ME 210, seen just before the attack. We had our starboard wing tip shot away to aileron - mid upper turret put out of action and a fire in the starboard wing. It was burning with a bluish flame and after several attempts to put it out by diving the aircraft, the skipper gave the order to abandon it.
I was number 6 out of the front hatch. The skipper, thinking I had gone out the back door, had baled out and the aircraft was flying on "George". The rear gunner is believed to have got out also. I was knocked out by my chute and hit the ground unconscious.
I retained consciousness in a ploughed field about 4 or 5 miles NE of Spa in Belgium. I could see the glow of a fire to the west, so walked east for 10 minutes until I came to a road which I followed for some time going south and west by turns. Towards dawn I had a rest and then continued until about 6.30 am. I sat down and stripped my battle dress of all distinguishing emblems and continued on.
At about 08:30 hours I arrived at a farmhouse where the farmer's wife gave me some bread and cheese and a cup of coffee. She told me where I was and I continued on my way west until after about 4 hours walking through forest I came to a rail siding where some workmen sheltered and fed me till 21:00 hours. Then one of them took me to his house and I slept there that night. Next day I was interrogated by an English-speaking man who was behind a screen. That night the village policeman took me to another village where I spent the night and next day they brought the skipper in. We were taken to a small town after dark and hidden in a hotel with American airmen. After 9 days, the skipper and I were taken to a haberdashery shop until 26 April, living on the best of food and cognac. I was given civvies there.
The trip into Switzerland was arranged and I arrived there on 01.05.44, staying until 12.08.44 when I left with F/Lt Miller (RAF 15 Sqd) with whom I remained until we reached the U.K."
As with many of the other Australian airmen, they were billetted in the Bellevue Hotel at Glion, above Montreux, in the French-speaking region of Switzerland.
Colin Campbell did not report any of the details of his escape when interrogated on his entry to Switzerland as he feared that any leak of information might endanger the brave patriots running the escape line which had brought him to safety in neutral Switzerland.
MI9 File AWM 54 81/4/135
File13/encl 34
AUS 704 F Lt Geoffrey Talbot Chinchen DFC
Captured Acroma 14 June 1942
Escaped Strasbourg 9 October 1943
Left Naples 17 September 1944
Arrived U.K. 19 September 1944
RAF Service since 2 February 1940
Extract from National Archives UK Ref: WO 208/3323:
"I took off from GAMBUT (NORTH AFRICA) at 1800 14 June 1942 and was shot down by light Flak 1830 hours. I baled out and landed between KNIGHTSBRIDGE and ACROMA. I was immediately taken prisoner by an armoured patrol and remained with the German Armoured Division in the front line for a few days. I was then taken to DERNA about 20 Jun, and from there to camps at MADALENA, BARCE, and BENGHAZI.
"On about 30 Jun I was taken to ITALY by air and was kept in transit camp Bari No. 75 (BARI) from 1 Jul until mid-Oct 42. I was then transferred to Camp 78 (SULMONA). The camp was taken over by the Germans on 8 Sep, and on 11 Sep we left for GERMANY. I tried to escape through a hole in the truck, but the guards discovered the hole. About 12 men however, succeeded in getting away. We arrived at MOOSEBURG (GERMANY 1:100,000, Sheet 148, 9570) about 16 Sep and remained there about a fortnight."
In summary from both the UK Archive above and Australian archive reference MI9 FILE AWM 54 81/4/13:
On 26 September taken to Strasbourg by train and imprisoned at Fort Bismark, a little to the North of the town. While in the camp he heard that the prisoners were shortly to be moved. Decided to escape with Lt. Hunter. Heard another escape was being planned for 6 October. Were cemented in. Although the alarm was given and there was a general search with dogs throughout the fort, it was presumed they had escaped with the others. We then emerged from behind the wall and spent the next few days avoiding roll-call. On the morning of 9 October, the camp was evacuated and the number of prisoners checked.
They again hid behind the wall and as we were already missing, no thorough search was made for them. The fort however was still guarded however, as some civilian internees had stayed behind, but the vigilance was much relaxed and they managed to make a ladder from bedding and climbed out of the moat.
Once out of the fort, they headed due west, walking only at night and living off the country. They had no proper civilian clothes, but had removed all badges from their uniforms. They passed the village of Still and reached a small hamlet called Nideck. Here they were given food, and a route across the mountains to Luvigny. There they contacted a Frenchman who guided them to Celles, where they arrived on 19 October. They hid there in a house for 10 days as their feet were in very bad condition.
They were taken by train to Nancy where we remained 4 days with a French family. They then intended to try and get to Paris, but at Nancy they heard that escape by this route and via Spain was impossible, so they decided to try and reach Switzerland. They left Nancy by train to Belfort, and from there were guided across the Swiss frontier on foot, crossing the frontier on 17 November in the vicinity of Croix. They contacted the Swiss authorities at Pruntrut (Porrentruy) and from there were sent to Berne. During their internment they were put in touch with the FFI and they decided to leave Switzerland and rejoin the Allies. In September 1944 they were put in touch with members of the French Resistance, crossed the border, and were then taken straight to Grenoble by car. There they contacted advanced American units and were taken to St. Tropez. On 3 September they were taken by sea to Naples, thence to UK arriving 19 September.
20761 Flight Lieutenant Frederick Felix Eggleston
Fred Eggleston was born in Melbourne on June 28, 1914 to a well-known and well-respected legal and diplomatic family. He was educated at Wesley college, Melbourne, where Jack Kroger was a member of the teaching staff.
They were to remain friends all their lives.
Fred graduated from Melbourne University in 1937 - MSc with first class honours in Physics. He obtained a position with the Imperial Smelting Corporation and worked for them as a nuclear scientist in England and Germany before WWII broke out.
He immediately returned to Australia and joined the RAAF. He was posted to 22 Squadron (City of Sydney) and then to the Middle East, joining 3 Squadron RAAF in operations over the Western Desert.
Shot down in his Tomahawk during a strafing raid on Derna in North Africa, Fred Eggleston ended up with most other Australian officers at Sulmona, not far from Rome. He was in the same cattle wagon as Geoff Chinchen, Bob Jones and AIF officers "Sandy" Mair, Jack Kroger, Barney Grogan, Les Lamb, Johnny Hall, Bob Donnan and Athol Hunter. Tracey Rowley, an English officer, had been carefully cutting the wood around the latch on the sliding door, and when he had finished, numbered slips were drawn out of a hat to establish escape sequence. Perhaps fittingly, Tracey Rowley drew Number 1. Fred Eggleston drew No. 10 and Geoff Chinchen No. 12.
When Fred's turn came to jump, he found himself near the village of Lavis, 8 km North of Trento. He teamed up with "Sandy" Mair and Bob Jones, who had already jumped. Friendly peasants outfitted them in civilian clothes in exchange for their woollen battle-dress, but all of them kept their boots. They caught up with Bob Donnan, Don MacDonald "Pop" Sharp and his son Keith, and a Canadian - Gordon Renau.
Although advised that Switzerland was "just over the hills", "Pop" Sharp (who was a veteran of WW1) and his son left the group to find their own way, which they subsequently did.
Swapping their watches for assistance from mountain guides, the group was lead to safety over the Passo Paradiso and after processing by Swiss border guards, were sent to a camp in the Swiss mountain resort of Arosa. It was there that he met, and subquently married Heidi Tagmann.
Fred has written an absorbing book of his war time experiences, entitled "Against the Odds" (L1)and gives a full and vivid account of his entry into Switzerland in the chapter headed "You've got to be Lucky". Under the heading of "Retrospect" (p46) he sums up his memory of that escape.
"To me, our 8 days adventure from Monday, 13th September, at Lavis in Italy, to Monday, 20th September, at Zuoz in the Swiss Engadine, was exhilarating. We walked 190 kilometres through some of the most beautiful mountain country in Europe. We crossed four high passes, each to the order of 3,000 metres above sea-level and all of our party got through to Switzerland. This was thanks to the courage, compassion and generosity of the Italians that helped us along the way. We depended entirely on them for shelter, food and guidance as to which paths to follow. The unusually fine weather for the time of the year was another vital factor in our favour. We had beautiful clear days, except when we came to Santa Catarina, crossing Passo di Gavia as we made our last climb to Trupchen Pass.
At the same time of the year, September 1976, when I made the comparatively easy climb from the Swiss side to Trupchun Pass, the sheer slope was covered with a sheet of hard snow. The climb was risky. One slip would have resulted in a headlong plunge to the rocks, 300 metres below. The snow on the Pass itself was 3 m. deep and, to the east, the Italian high country we had come through was deep in snow. We could never have succeeded in such conditions.
Good fortune had smiled on us.
On this return visit, 33 years later, my Swiss mountain-born wife, Heidi, expressed surprise that we had chosen such a difficult route for our escape. The factors in its favour at the time, were the reduced risk of being apprehended by German, or Italian Fascists in remote mountain areas, and my love of the high country and its people, which had roots in my pre-war skiing days in Australia. It had been an inspiration to meet these mountain people of Italy, who had survived in this harsh environment, through industry and sheer strength of character, for generation after generation. Like all the mountain people of Europe, they are God-fearing, compassionate and with a balance of humility and pride. It makes me feel truly humble to reflect on their willingness to risk death to help us escape from our German captors - a matter of great importance to us, but one in which they had no personal interest, or prospect of gain".
In Switzerland, Fred was seconded to the British Legation in Bern as a cypher officer. He and Heidi eventually returned to Australia by ship, via America.
Acknowledgments and Thanks to Heidi Eggleston-Tagmann.
726 Flight Lieutenant Robert Sydney Jones
Swiss Army Records indicate that F/Lt Robert Sydney Jones, of Perth, born 1916, entered Switzerland on September 19, 1943 and was classified as an "evade'" as he had escaped from Italy in civilian clothes and was unarmed.
Robert Jones was shot down in Libya on January 11, 1942 and taken by his German captors to a civilian prison in Tripoli, with Flight Sergeant A.C. Cameron, DFM, who had been shot down in the same air battle.
They escaped from this prison on January 19, 1942, but after 5 days of freedom, were betrayed by Bedouins and returned to the same gaol. Finally transferred to Italy, Bob spent time in prison camps at Capua, Padua and Sulmona before being transferred to Bologna and the "Moosburg Express". Escaping from that train, he found himself still in Italy and headed straight for Switzerland, arriving there on September 19, 1943 only 10 days after the official declaration of the Italian Armistice and on the same day as Lieutenant Frank Sharp and his son Keith, beating Bob Donnan and Fred Eggleston by one day!
Bob elected to spend his time in Switzerland in civilian clothes and was thus free to move around that country provided he notified the Swiss Fremden Politzei of his movements. He spent a great deal of his time skiing, mountaineering and other winter sports in the winter, and swimming and yachting in the summer, generally enjoying his enforced Swiss sojourn. When the Amercans liberated French Savoy and opened up the Franco Swiss border, Bob "jumped it" with Geoff Chinchen.
They walked to Annercy where they contacted French Resistance forces and joined up with the Americans in Grenoble. They was later flown by them to Corsica and then to Rome, where they enjoyed some sightseeing including a visit to the Vatican. After two days the friendly Americans put them on to another plane to Algiers and then on to Casablanca. After a week there at the officers mess, they finally reached an RAF base in Cornwall. An intelligence officer confined them to barracks an interrogated them at considerable length. But the next day they passed as being what they claimed to be - escapees from Switzerland and were given a rail warrant to report to RAAF HQ in London. Bob Jones resumed active service as an Intelligence Officer attached to the RAAF Reception Depot at Brighton in Sussex.
(A full account of Bob Jones story is set out by him in his essay - "Third Time Lucky" in "Silk and Barbed Wire" (L7) page 107)
402462 Flight Lieutenant Fred John Robert Jones, DFC
Flying with 78 Squadron RAF, Fred Jones was shot down over Mannheim in a Halifax bomber. He bailed out over north west France, near Switzerland, was picked up by the French Resistance and smuggled by them into safety there. He was registered by the Swiss as having arrived there on October 8, 1943 and re-patriated on October 4, 1944 almost a year to the day.
He was not known to other Australians there, but when he arrived in the U.K. he was interrogated closely by MI9, that section of Military Intelligence dealing with the recovery of Allied personnel from enemy territory.
As an "evade" he was eligible to return to active combat and was a Squadron Signals Leader on his second tour of duty on which he won his DFC.
The crew of Halifax II - LW273-EY-L were :

Into Switz Out of Switz
F/O K.E. Cooper RACF - POW
Sgt A.F. Charman RAF - EVD
Sgt A.D. Galloway RAF - EVD: 30.10.43 30.09.44
F/O R. Isherwood RAF - EVD
F/Lt J.R. Jones DFC RAAF - EVD: 08.10.43 04.10.44
Sgt J. Rimmer RAF - POW
Agt K.W. Thorp RAF - EVD: 30.10.43 04.10.44
There is no Swiss record of either F/O Isherwood or Sgt Charman reaching Switzerland. They may have been recovered by the French Resistance and smuggled out to safety in another country, or they may have stayed underground in France.
Acknowledgments and Thanks to Bob Horsely.

418435 F/S Charles Henry Kroschel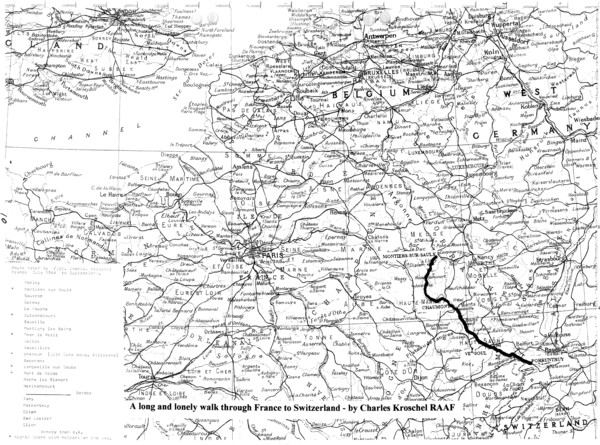 When Charles Kroschel enlisted into the RAAF in 1941, he commenced a long and thorough programme of training under the Empire Air Training Scheme as an Observer. Eventually when his training was finished in England, he was posted to 166 Squadron - a Lancaster Squadron in Bomber Command based at Kirmington, Lincolnshire. But in England there was no such posting as Observer, and he had to choose between a posting as Navigator, or as Bomb-aimer. He chose the latter.
The target of his 14th operation, July 13, 1944, was a railway viaduct at Revigny-sur-Ornain some 230km East of Paris, on one of the main railway lines in France used by the Germans to supply their troops in Normandy. His Lancaster LL896, returning from this raid was attacked by night fighters, set afire and crashed at Montier-sur-Saulx. The crew were:
F/O R.T. Banville (Canada) - pilot: evaded
Sgt K. Hoyle - mid-upper gunner: evaded
F/Sgt E.W. Julier - navigator: KIA
Sgt H.H. Kidd - wireless operator: KIA
F/Sgt C.H. Kroschel (Aust) - bomb-aimer: evaded
Sgt J.H. Nicholson - flight engineer: evaded
Sgt W. Watkins - rear gunner: KIA
Those who did not survive the crash are buried in the cemetery of Montiers-sur-Saulx. The remainder of the crew were rescued by members of the local French Resistance. Sgt Hoyle and Sgt Nicholson were smuggled back to the U.K. arriving there on September 4, 1944 while F/O Banville followed them there the next day.
F/Sgt Krochel too, was rescued by a French farming family, who hid him on their farm. Although they knew that 3 members of the crew had been killed and 3 others rescued by other Frenchmen, the Moulun family would not let him join up with them as the Germans were very active searching for survivors of crashed Lancasters. For in the series of three raids on Revigny, LL896 was only one of 41 Lancasters that failed to return to base. 231 Allied airmen lost their lives in those three raids on Revigny.
After weighing up his situation, Charles Kroschel decided he would make for Switzerland and supplied with food and civilian clothes and with his own escape maps and survival kit, he left the Moulun family and started his long, lone walk to Switzerland. This is fully described in Chapter 14, "Swiss Stroll" in "Massacre over the Marne" by Oliver Clutton-Brock (L6). Charles summarised this experience in a recent discussion with the Recorder.
"The long walk started about 11.30pm and I was able to make fairly good progress with the aid of the escape maps and a few the French had given me. With the use of the Benzedrene tablets from the escape outfit, I was able to walk for eighteen hours, through the night and all next day ... I walked along back roads in the general direction of Switzerland aided by maps taken from French telephone books and my own escape map from my survival kit. I had two compasses, one from two fly buttons which could be superimposed, and another small brass one I had sewn into my lapel.
"I kept going before I found somewhere to rest and hide for a few days. This turned out to be with a couple of middle-aged women who had a few cows and an empty house. One of the women made up a bed and brought lots of hot water so I was able to clean up and get some of the stiffness out of my body. She also brought a bottleful of pure alcohol to rub into my legs, by this time in a bad way. I spent a few days sleeping there and had lots of fresh milk and food. I needed this and tucked into any they could spare.
"I started again with the women guiding me to the right road. Later that night I got a bed with some farmers who were part of the local Resistance. Later that night they took me to an isolated hut where there was a hidden radio; they were expecting a message from London concerning a parachute drop. It was strange hearing messages, all of which had special meanings to these patriotic groups; "Mary's horse has had a new foal"; "Aunt Mathilde is coming to stay" etc. At the end of this day, I felt in need of a few more days rest and chose the village curee. He was very kind, letting me shelter with him for a few days.
"On the road once more, thirst became a problem and I put the plastic water bottle from the escape kit to good use, filling up from streams and village pumps, until I realised that this could give me away as the French only wash in water - they drink wine! Wild strawberries were growing along the way and I picked and ate those without any dire results.
"About a week had passed and I was getting close to Switzerland, I had listed the tiny villages I had to pass to get there, and as I progressed, I would tear off the name of that village from my list, so that nobody would know where I had been. The town where I spent my last night was Pointroide on the Doubs river, about 13 km from the frontier. I thought the best way would be to leave the main road and go along a small plateau and try and sneak in through an uninhabited part. Eventually I came across a chap picking cherries and when I asked if I was in Switzerland, he called his wife. She could speak English, having worked in London for about 10 years. They gave me instructions and warned me about the German guards and where I was likely to find them. It was about 10am and a nice sunny day and I felt quite excited about having got so far without any serious set-backs.
"I was on the last stage of my journey and about to cross a small valley that was the border line, when I saw two German guards between me and safety. They saw me, and started to come towards me, so I thought I would give them a chase for it. I ducked into a wheat field, ran through it in circles, out the other side and headed straight for Switzerland about 400 yards away. I could see the Swiss guards on the road watching me. The Germans chasing me, came out of the wheat field and I saw I had a chance of making it. Luckily they didn't fire. Crashing through hedges and jumping ditches, I raced up to a farm in the first village and asked "Switzerland?" The people said "Yes". Just before I collapsed, I saw the Germans give up the chase two hundred yards behind me. I had entered Switzerland - somewhat illegally - at Fahy on 24th July".
After his period of quarantine was over, Charles was taken to the "camp" for British airmen at a luxury hotel at Glion-sur-Montreux overlooking the beautiful lake of Geneva. He remembers being interviewed by the Senior Air Force officer - a Wing Commander - who was nattily attired in a paisley patterned dressing gown and a silk cravat. At the end of the interview as he took his leave, the Wing Commander said "Have you forgotten how to salute a senior officer?" Somewhat flabbergasted, Charles replied: "when in uniform, no", and failed to add the "Sir".
References:
L6 "Massacre over the Marne", Oliver Clutton-Brock. ISBN 852604522
Acknowledgments and Thanks to Charles Kroschel
408881 F/Lt Arthur Bruce Simpson, DFC.
Source: Arthur Bruce Simpson, DOB 23 April 1916. 467 Squadron, Bomber Command, RAF. Australia. RAF Service since 20 June 1941.
Left Naples 16 September 1944. Arrived U.K. 16 September 1944.
Crew:
F/O Watts - Navigator
F/Sgt Manson - Bomb Aimer
Sgt Curl - Engineer
F/O Johnson - W/operator
P/O Weedon - Rear gunner
F/Sgt Campbell - Mid-upper gunner
Bailed out near Aachen. Contacted Belgian resistance. Stayed with them for 3 weeks, given money civilian clothes and forged identity papers. Met up with two USAAF airmen, First Lt. Brown and Sgt. Johnson and F/Sgt Campbell of his own crew. The four were taken by train to Liege, thence Dinant and Colvin. Crossed border without difficulty at Rochoi. Thence bus to Charleville on 28 April - Nancy - Belfort - Mt. Beliard. On 30 April arrived at Blamont thence Pruntrut. After a quarantine period in Bern taken to Glion on Lake Geneva, where the two Americans were separated to be looked after by their own consulate. F/Sgt Campbell was separated on 12 August when he left to return to England.
At the end of August source decided to reach UK with the help of the French underground movement. On 31 August he and Fl/Lt Goodman crossed the Swiss border in the vicinity of the village of Morgins - thence Chater - Thonon on Lake Geneva to Marquis HQ - Annecy. Stayed there for 2 nights and contacted FFI. On 4 September taken by them to Grenoble where contacted 7th Army H.Q. and taken to St. Raphael. Remained there 3 days and on 8 September taken to St. Tropez leaving there for Naples the same day, where separated from Fl/Lt Goodman. Arrived UK 16 September, 1944.
Bruce Simpson originally joined the AIF - seeking action in armoured vehicles, but the army did not choose to use him in that capacity. After a struggle with bureaucracy, he managed to transfer to the RAAF and finally joined 467 Squadron in Lancasters. Leaving Waddington on March 30, 1944 to attack Nurnberg, he had almost cleared Belgium on his way to the target, when attacked by an ME110 piloted by Major Martin Drewes, III/NJGI and shot down at Crepps (Liege).
P/O R.C. Watts and F/Sgt K.W. Manson were injured in that attack but bailed out successfully with the rest of the crew, but were taken prisoner. The rest of the crew managed to evade re-capture and Bruce and Colin Campbell managed to get to Switzerland with the aid of the Belgian and French Resistance. He entered Switzerland on March 1, 1944 and left on August 27, 1944. Bruce carried out another tour of duty in the U.K. was awarded the DFC, and repatriated from there to Australia on March 3, 1945. He married in England and his son Peter, is currently writing the memoir of his father.
MI9/S/PG 2439 AWM 54 81/4/135 P.111/11
The Story of Lancaster ND759 TL-R - "R for Robert"
On April 28th, 1944, a Lancaster from 35th Squadron - part of No 8 Group Pathfinder Force, "R for Robert", was about 100 km from its target at Friedrichshafen on Lake Constance, part of the border between Switzerland and Germany, when it was attacked from almost head on and the starboard outer engine rendered useless. There was no apparent damage except that the navigator, Noel Davis, found his radar screen was blacked out. The pilot, Bob Peter made the decision to continue on, although at a lower level. Losing height, "R for Robert" bombed its target and headed for home. Soon after leaving the area, the crew were shaken by large explosions at the rear of the plane which was set on fire. Another engine caught fire, leaving only two. The cockpit area was full of smoke, instruments unreadable, and the plane entered a spin. Bob Peter ordered the crew to bail out. The crew were four Australians, two English and one Irishman - they were:
P/O Bob Peter RAAF - pilot
P/O Geoff Foulkes RAAF - navigator
P/O Noel Davis RAAF - bomb aimer
F/Sgt Murray Bartle RAAF - wireless operator
F/Sgt Paddy Balmer RAF - mid-upper gunner
Sgt Irvine Graham RAF - rear gunner
Sgt Bob Brereton RAF - flight engineer
The parachutes of Geoff Foulkes and Noel Davis were stowed under their feet. The intercom had failed and nobody knew the situation of all the crew. Geoff Foulkes and Bob Brereton managed to get to the nose and release the escape hatch and they presumably made a "normal" jump. A check by Noel Davis to try and locate any crew on board found that the two gunners parachutes had been burnt as had their faces. Murray Bartle was OK and on being so informed, Bob Peter decided to try and ditch as he had pulled out from his long spin (from 5,000 to 1,000m). Low over the water, now in darkness, at a speed of about 80km/h, the plane flew into the lake and all aboard escaped in the dinghy, which had automatically inflated.
They rowed in a southerly direction towards what they believed to be the Swiss shore. Reaching it, they stripped the insignia from their uniforms, and hid in some trees on a hill until daylight, when they approached a farmer to make sure they were in Switzerland. The farmer accompanied the crew to Heckborn and Bob Peter, Noel Davis, Murray Bartle were locked in gaol and the two burnt gunners taken to hospital. Next day they were all taken to Zurich and were interrogated before being taken to Bern.
Since the actual border through Lake Constance (Bodensee) is marked by a dotted line, and they had crashed in German waters and were in "uniform", they were classified by the Swiss as "internees" and were thus in a different category to the other Australian airmen in Switzerland. Consequently Noel and Murray found themselves in Adelboden with the American and Canadian airmen already interned there. Bob Peter was kept in Bern and was included in an exchange of wounded "internees" in May 1944 arranged by the International Red Cross and was repatriated back to England via France and Spain.
(Synopsis of "Target for Tonight" by Michael Armit, "The Canberra Times" April 1944).
"R for Robert" - Crew
A419 P/O Bob Peter
About 50 miles short of the target, a vital ball-bearing factory in the industrial complex of Friedrichshaven on the German shore of Lake Constance, Bob Peter, pilot of "R for Robert", sighted a twin engined German fighter bearing in to attack the Lancaster from directly ahead. Paddy Balmer saw it too, but had no opportunity to open fire. Although Bob Peter immediately corkscrewed, the starboard outer engine was hit. He managed to feather the engine and flew on with the remaining three, bombed his target from 16,000 feet and then swung back for home.
A few minutes later "R for Robert" was attacked again. Murray Bartle, standing in the astrodome spotted tracer coming in from astern and then a fire broke out in the fuselage. The fire spread and soon the fuselage between the mid-upper and rear turrets was well alight and the plane filled with smoke, preventing Bob from seeing his instruments. "R for Robert" went into an uncontrolled spin, and he ordered his crew to bale out
Geoff Foulkes and Bob Brereton, in the nose of the plane, immediately did so and the opening of the front escape hatch cleared the smoke from the cockpit and Bob could see his instruments again. But he could not push the joystick forward and the aircraft continued to lose height as it continued to spiral downwards. Paddy Balmer and Vin Graham had succeeded in putting out the fires and Murray Bartle was able to came to the aid of Bob Peter struggling to correct the plane and together they managed to bring the aircraft under control. "R for Robert" had descended to only 3,000 feet but was flying very sluggishly, Bob Peter decided that his only chance for survival was to ditch in the lake and ordered his remaining crew to their "ditching stations".
Despite the pitch black night and only flying on three engines, he made a perfect "ditching" with scarcely any impact. Water rushed in over him, but all managed to climb aboard the inflatable dinghy which had automatically released itself. The Lancaster sank about 3 minutes later, and after about one and a half hours of paddling they managed to reach the Swiss shore of the lake. Despite their bad burns, the two gunners refused to leave the others and when the party met a Swiss farmer, they followed his advice to surrender to the local police station at Steckborn. Later an ambulance came for the two burned gunners, and that night the Swiss police took Bob, Murray and Noel by car to St. Gallen where they stayed the night before being taken to Dubendorf Airfield in Zurich for interrogation and then on to internment at Bern.
While still in Bern, waiting to go to the airmens internment "camp" at Adelboden, Bob Peter was advised that he would be included in an exchange of internees - 10 British pilots as against 10 German ones. By an ironic twist of fate, Wilhelm Johnen, the ace German fighter pilot who had shot him down, but didn't claim him as a "kill" as Swiss anti-aircraft fire was also involved, was one of the German pilots. So after a very brief stay of only some weeks, Bob Peter, on May 12 was exchanged at Basle, and entered Germany for the second time in a few weeks. But this time it was a ground journey in the first class compartment of a train in company of a German officer and his NCOs, who made no attempt at regimenting the 10 former internees who were in civilian clothes. When they reached the Gare de l'Austerlitz in Paris they even feasted them in royal style and provided them with a personal hairdresser!
With friendly farewells, the Germans left the internees at Irun on the Spanish border and after spending time in San Sebastian and Madrid, they finally reached the U.K. via Gibralter. Bob Peter subsequently received the DFC. From England he was repatriated back to Australia to become a flying instructor at the RAAF College, Point Cook, Victoria, a non-combatant duty.
Wilhelm Johnen, in his book, "Duel Under the Stars" confirms that he shot down one British bomber near Besancon, in France, but that his "second shoot" that night "played into flak's hand" confirming that it came from the Swiss side of the lake defending the "neutrality of Switzerland".
Like Bob Peter, Wilhelm Johnen was also in trouble over Lake Constance. With one of his twin engines on his BF110 fighter knocked out by machine gun fire from a Lancaster, he had pursued into Swiss air-space and harried by Swiss searchlights, he was forced to land his fighter on the Dubendorf airfield at Zurich, and immediately having done so, blew it to smithereens to prevent its secrets being revealed.
Wilhelm Johnen, unlike Bob Peter, but like Bruce Simpson, resumed operations when he returned to his home base, claiming 15 more British and American before hostilities in Europe finally ceased. This may have again, avoided the niceties of war, but to the pragmatic Swiss, who had carried out a continual programme of repatriation of both evaders and internees it was a programme of one less mouth to feed, and one less body to accomodate, and one more uninvited guest to leave their country.
(The story of the crew of "R for Robert" is taken from a long letter written by Bob Peter to W.F. "Bill" Hird, reprinted in "Bomber Command News" together with an extract from the "Bomber Command Quarterly Review" supplied to the Recorder by Noel Davis currently living in Sydney. It is supported by correspondence and phone conversations with Bob Peter and Murray Bartle currently living in Perth.)
415755 F/S Murray Bartle
After the war, Murray Bartle kept trying to trace the German fighter pilot who had downed "R for Robert" and finally contacted Wilhelm Johnen in 1989 living in Uberlingen on the shores of Lake Constance. Finally he was able to arrange a meeting between the two pilots involved in the events of the night of April 27/28 in far back 1944.
And in July 1993 they met again on the German shore of Lake Constance, where Wilhelm Johnen still runs his own industrial construction company.
While Bob Peter had been exchanged soon after the events of that night, Murray Bartle and Noel Davis had been sent to Adelboden where they were quartered in the National Hotel. Spring had then come to Adelboden, and in June the Allies had invaded Normandy. By September, the American Fifth Army, which had landed in the south of France, had fought their way up to the Swiss border, liberating all of South West France, although some pockets of resistance still remained and the Germans were still to mount the "Battle of the Bulge" in the Ardennes. For many interned Allied airmen the time had come to "jump the border". Geoff Chinchen and Bob Jones had already successfully done so from Glion.
This was breaking the code of Swiss neutrality, for having offered asylum to both evaders and internees, and attempt to cross the border without Swiss permission became a Federal offence. Most POW would have believed that it was their duty to try and rejoin their unit at all times, and this would certainly have been the case for any Australian POW in Axis hands, but Switzerland was not "at war" and all residents of Switzerland were technically "free men" subject to Swiss law. Those Allied POW in Switzerland, seconded to duty to official Government organisations, particularly to those with diplomatic privilege, could have faced court-matial had they left their posts without permission.
The Recorder, on secondment to the British Consulate in Geneva, was left in no doubt about this distinction between the Geneva and the Hague Conventions by the Head of Mission, Count van der Heuvel, the British equivalent in Switzerland to Allen Dulles the American Head of the OSS, which later became the CIA. "Fanny" van der Heuvel made it very clear. Any seconded service staff who "tried it on" would face a court martial!
When Murray Bartle and Noel Davis left the National Hotel in Adelboden with two Canadian officers, they were probably unaware of their exact status, when they mingled with the British Army personnel being repatriated as evaders, when they joined them on the buses which took them from Adelboden to Frutigen and then on by train to Geneva.
Unfortunately for Murray, he was intercepted by Swiss border police at the border crossing, arrested and sent back, not to Adelboden, but to a notoriously tough Federal prison at Wauwilermoos, near Lucerne, whose very existence was unknown to many Swiss. Both evaders and internees in Switzerland were subject to Swiss Federal Law, and under The Hague Conventions could justifiably be punished for any serious breaches of it such as rape or murder.
The Swiss government had built two Federal prisons, Hunenburg and Wauwilermoos, to house any non-Swiss national who transgressed their laws and these were particularly unpleasant places, with particularly unpleasant guards. Wauwilermoos, whose Commandant, Andre Beguin, a pro-Nazi career Swiss Army officer hated internees, particularly American flyers.
One American airmen, Dan Culler, who had tried to "jump the border" from Adelboden but failed to cross into France and then made his own way back to Adelboden, also found himself in Wauwilermoos.
His harrowing experience in this Swiss Federal prison is described in his book " Black Hole of Wauwilermoos" self-published in Arizona in 1995 (L4).
Neither he nor Murray Bartle should have been sent to that prison, a fact subsequently acknowledged by the Swiss Government, whose President, Kaspar Villiger invited Dan Culler and his wife back to Switzerland in 1995 to apologise to him personally. Andre Beguin was cashiered from the Swiss Army.
Murray Bartle was repatriated by the Swiss on November 11, 1944 before hostilities in Europe had ceased.
References:
L4 "Black Hole of Wauwilermoos", Dan Culler, Arizona, USA. ISBN 188777601X
L5 "Hitler's Secret Ally", Don Waters, California, USA. ISBN 0964001179
Acknowledgments and Thanks to:
Murray Bartle
Dan Culler
Clair Runyan
Don Waters
A413835 P/O Noel Charles Wilson Davis
"On April 27, 1944 I left in a Lancaster from Gravely at about 19:00 hours to bomb Friedrichshafen. We were attacked by fighters over Lake Constance before we reached the target. The engineer and the navigator bailed out and I believe the engineer (F/S Brereton) was captured and is a prisoner in Germany. The rest of us ditched in the lake and rowed our dinghy to the Swiss side, where we were taken into custody by the Swiss authorities and interned. From 28 April to 22 May we were in a quarantine camp in Berne. We were then moved to Adelboden and remained there until 4 October. I smuggled myself with three other members of our crew (F/S Bartle, F/S Balmer and F/S Graham) among some army repatriates. We were taken by train to Geneva where we had to pass the frontier on foot to get the train in France.
The four of us had split up and when I reached the train, I did not see my three companions. In all probability, they had been caught when crossing the frontier.
I was taken to Annecy from where I was flown back to the U.K. on 8 October 1944".
(Extract from MI9 File AWM 54 81/4/135 )
At the border control check point in Geneva, Noel Davis managed to bluff his way past the Swiss guards by carrying the boxes of documents used the clear the border by the Army officers to the train to Marseilles, as if he was a one of the rear party of the Army Repatriation Control Group.
In his debriefing at Kodak House in London, the interviewing English RAF officer chastised him for having "jumped the border" saying it might have adverse repercussions for Anglo-Swiss relationships. The debate on "jumping the border" still remains unresolved.
But the niceties of neutrality were lost on most serving Australian (and American) "internees". For most of them ther duty and desire to re-join their units and comrades was paramount and in the absence of explicit command their decisions and actions were mainly individual ones.
Noel Davis was repatriated from Switzerland on April 10, 1944, some six weeks before Murray Bartle, whose attempt to "jump the border" had failed, with disastrous results for Murray.
The body of Geoff Foulkes, RAAF, still wrapped in his parachute, was retrieved from Lake Constance about a year after "R for Robert" sank in its waters. He was buried in the cemetery at Vevey, near Lausanne. Bob Brereton, RAF was indeed taken POW by the Germans. David, "Paddy" Balmer, RAF, from Bangor, Ireland, was repatriated from Switzerland with Irvine "Vin" Graham, from Buring, Lancashire on December 22, 1944.
LANCASTER ND 759 TL-R-"R for ROBERT"
The crew of the Lancaster bomber "R for Robert" included 4 Australians, 3 of whom survived the crashlanding in Lake Constance (Bodensee) which forms part of the border between Switzerland and Germany.
They were the only Australian internees among the 421 Australian army and airforce servicemen to reach Switzerland. All the others were classified by the Swiss as evaders.

The "pilot-swap" between Bob Peter and Wilhelm Johnen was not uncommon as more and more airmen crash-landed in Switzerland during the heavy bombing raids on the German heartland.
The Swiss had to draw a very fine line between retaining their neutrality and acting as reluctant hosts to the casualties of war. They succeeded in drawing this line by making themselves and their neutrality indispensible to both sides. By means of Direct Governmental Repatriation Agreements, continual combattant exchanges were made. Early in 1945, such an agreement, on a 1 for 2 basis was made for 664 American interned airmen to be repatriated for 1,288 interned German "Wehmachtsangehoerige". Between February 17, 1945 and March 6, 1945, 586 American airmen were repatriated via Geneva while on February 21, 1945, 1,836 Germans were repatriated via Kreuzlingen, of which 783 were members of the German Army and the remainder German Customs and Police Officers, who, strictly speaking, were not covered by the repatriation agreement, as hostilities were still continuing.
Such agreements for repatriation were a calculated part of a pragmatic policy by the Swiss to lessen the number of uninvited guests, they had to feed and foster at a time when feeding their own citizens was taxing their limited resources to the full.
(Repatriation statistics taken from A5 "Schussbericht")
Acknowledgments and Thanks to:
Murray Bartle
Gary Blumer
Dan Culler
Geoff Chinchen
Noel Davis
Heide Eggleston-Tagmann
Bob Horsley
Bob Jones
Charles Kroschel
Bob Peter
Peter Simpson
Brian Walley
AWM Collection 54 779/3/129-13 parts THE AIR RAID BY AMERICAN BOMBERS ON SCHAFFHAUSEN, APRIL 1 1944
The following is an extract/cum/summary of Chapter 13, of "Hitlers Secret Ally - Switzerland", by Don Waters (L5), ex-USAAF pilot interned in Switzerland, 1944.
"At exactly 10.40 am on the first day of April 1944, 38 US heavy bombers attacked Schaffhausen, Switzerland. Flying in clear weather and with no opposition, the bombers obliterated a small group of factories that were producing anti-aircraft shells, ball bearings and ME109 parts for Germany. Some buildings not associated with the factories were also damaged, for which the U.S. subsequently paid the Swiss a million dollars in damages. The raid killed 35 Swiss and wounded 280.
Immediately after the bombing, Captain (later Brigadier-General) Robert Cardenas, an "evade" attached to the American Consulate in Zurich, was ordered to rush to Schauffhausen, evaluate the strike and take pictures. "It was a textbook bombing", Cardenas related, "everything in that small area was destroyed, yet not a block away, a hospital was intact and a block in another direction, a school was untouched ... it was no accident".
Yet despite very considerable publicity and debate both the Swiss and U.S. Governments still aver that Schaffhausen was bombed "in error", Don Waters has collected extensive evidence to prove that attack was deliberately planned.
Contrary to customary practice the returning crews of the aircraft involved in the raid were "restricted to their aircraft until they could be debriefed by intelligence officers".
The primary mission for that days operations of the Second Bomber Division of the Eighth Air Force, had been Ludwigshaven in central Germany. The 164 B-24s had been forced to overfly their target because of dense cloud cover at a height of 21,000 feet. Yet the 38 bombers that attacked Schauffhausen as a "target of opportunity" on the return flight were in clear conditions at an altitude of only some 3,000 metres. A better T/O would have been the giant industrial complex of Friedrichshafen only a few minutes from Schauffhausen, on the German side of the Rhine. Don Waters has collected considerable evidence to support that navigational error was highly improbable. While for that matter, if the US Airforce had wanted to prevent vital ball bearings being sent from Switzerland to Germany a planned attack on the Orlikon factories would have been more effective than an attack on Schaffhausen.
What was the real reason for the unique and strange attack on April 1, 1944 by the U.S. Airforce on Schaffhausen?
Reference:
L5 "Hitlers Secret Ally - Switzerland", Don Waters, 1992. ISBN 0964001179
Acknowledgements and thanks to Don Waters.
RAAF REFERENCE BOOKS:
L1 "Against the Odds", Fred Eggleston. Self-published.
L4 "Beyond the Wire", Robert Hale. ISBN 070901300O
L5 "Hitler's Secret Ally", Don Waters, California. ISBN 0964001179
L6 "Massacre over the Marne", Oliver Clutton-Brock. ISBN 1852604522
L7 "Silk and Barbed Wire", Ed. Brian Walley. ISBN 0646390821
L4 "The Black Hole of Wauwillermoos", Dan Culler, Arizona. ISBN 188777601X
L8 "The Day We Bombed Switzerland", Jackson Granholm. ISBN 1840371358
L9 "The Evaders", Edmond Cosgrove. ISBN 0772001022
AWM File 54 Collection 779/3/54 in 37 parts specifically - 81/4/135 MI 9/S/PG
GLOSSARY and ABBREVIATIONS
B17, B24 USAAF 4 engined daylight bombers
DFC Distinguished Flying Cross (officers)
DFM Distinguished Flying Medal (other ranks)
DZ Dropping Zone
Flak Anti-aircraft fire
Halifax, Lancaster RAF 4-engined night bombers
IS9 (WEA) Intelligence School 9 West Europe Area
Kite Aircraft
Kittyhawk Fighter plane
Mae West Flotation Jacket
R/T Radio Telephone
Tomahawk Fighter plane
T/O Target of opportunity
Windows Metal-covered strips dropped to confuse radar detection
AIR CREW RANKING
The lowest rank of aircrew was Sergeant. After 12 months service this was automatically up-graded to Flight Sergeant, and after another 12 months to Warrant Officer 1. Commissioned rank also generally advanced in annual increments. Commissioned rank was indicated by thin and thick bands on uniform sleeves. Commissioned ranks and their AIF equivalent are:
RANK ABBREVIATION INSIGNIA AIF EQUIVALENT
Pilot Officer P/O 1 thin stripe Subaltern
Flying Officer F/O 1 broad stripe Lieutenant
Flight Lieutenant F/Lt 2 broad stripes Captain
Squadron Leader S/Ldr 2 broad 1 thin Major
Wing Commander W/Cdr 3 broad Lt Colonel
Group Captain G/Cap 4 broad Colonel
Air Commodore A/Comm 1 wide Major General