Part Five - Other European "Free Men"
Chapter 1 - Italy
The Growth of the Italian Resistance
The story of the Italian Resistance Movement begins with Benito Mussolini and the rise to power of his Blackshirts. In many ways Adolf Hitler based his Brownshirts on Mussolini's Fascist philosophy. But the foundations were quite different.
Germany, humbled by the Treaty of Versailles which ended WWI, was trying to make a desperate comeback as a world power. Italy, under Mussolini was endeavouring to unify a country that only became one nation in 1961. It was trying to become a world power. Unlike Germany, Italy was still dominated by the Vatican and social inequalities and internal politics had always had always been the bane of its existence.
Mussolini joined the Partito Socialista Italiano, the PSI, which had sprung from the "Fasci di Azione Rivolutionari", the first "fascio" whose views were leftish, anti-capitalist and anti-religious. These early "Fascists" had the broad support of the conservatives and businessmen most of who were worried by the growth of the trade unions.
After invading and defeating Emperor Haile Selassie of Ethiopia in 1936, Mussolini made a pact with Hitler to form the Rome-Berlin Axis and in January 1937, sent 50,000 Italian troops to fight against the Communist International Brigades in the civil war in Spain. The opening prelude to the symphony of WWII was being played.
Italy joined Germany and Japan in a pact against Communism which had always been a clandestine political organisation, particularly strong in the industrial north of the Italian peninsula.
In 1940, Italy declared war on Britain and France. In October of that year, Italy disastrously attacked Greece through Albania, without Hitler's knowledge. In June, 1941, Germany invaded Russia and in December, Japan attacked Pearl Harbour followed by a formal declaration by Italy of war against the USA.
WWII was indeed to be a global war.
London became the centre of Governments-in-exile of many European occupied countries lead by France and was the nerve-centre of efforts to "re-kindle the lights of Europe" as Churchill expressed the sentiment. Active "Resistance Armies" were formed, supplied and directed from London and local patriots in enemy occupied countries drew a very fine line between themselves and terrorists. In Britain itself, the massive job of re-invading Europe was under way.
The psychological turning point in the struggle by Europe for its liberation was the eventual defeat of Hitler's armies at Stalingrad, breaking the myth of Axis military invincibility. With it the writing was on the wall for the for the fall of Fascism.
The Italian working class, predominantly Communist, began to assert itself and the March strikes in Milan and Turin dealt the Fascists their first deadly blow (A6 p32). The Committee of National Liberation (CLI) in the north, managed to transcend party political interests, and the success of the co-operation between the six major political parties that made up the CLI was the success of the Italian Resistance, which became one of the first and brightest lights to shine again in Europe.
These six Italian political parties of the CLI, each with two members, were-
Communist Party - (Trade Unions)
Socialist Party - (Anti-Monachists)
Christian Democrats - (The Catholic Party)
Monachists - (Royalists and many Liberals)
Republicans - (Anti-Royalists, Anti-Communists)
Liberals - (Midddle class professionals, Anti-Communist, Anti Monachy, Anti-Church)
While many partisan and patriotic groups formed, they were not all politically based. North Italian partisans, unlike the conscripts of the Italian Army, were not fighting imperialistic wars in North Africa, but were fighting for their own homes and an independent manner of existence. For them it was a personal war, bringing out their best individual characteristics of endurance, self-sacrifice and raw courage.
This was to profoundly change the general attitude to Italians formed by the AIF in North Africa. When the Italian Armistice was signed some 20,000 allied POW including 2,000 ANZACS were "on the loose" in the North Italian mountains. Many members of the AIF fought alongside local Italian partisans, fed and succoured by Italian peasants, who took enormous personal risks in doing so.
References:
F4 "An Italian Experience", Malcolm Webster, self published, Melbourne.
F6 "Australian Partisan", Ian Sproule, 1997. ISBN 0958669368
F2 "A Strange Alliance", Roger Absalom, Leo Olschki. ISBN 8822238826
F26 "Rabbits and Spaghetti", Bill Bunbury, 1995. ISBN 1836381221
M36 "Special Operations Europe", Basil Davidson, 1980. ISBN 0575028203
F40 "The Story of the Italian Resistance", Roberto Battaglia, translated and edited by P.D. Cummins, Odhams Press, London, 1957.
F36 "The Other Italy", Maria di Basio, Nortons, 1988. ISBN 0393025683
M44 "The Partisans", David Mountford, Hamlyn, 1979. ISBN 600371522
F45 "War in Italy 1943/45", Richard Lamb, London, 1993. ISBN 0719549337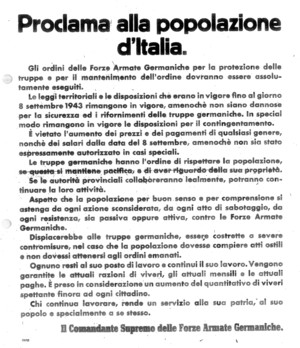 ---
Translation of Proclamation:
Proclamation to the people of Italy.
The laws and ordinances in force on 8 September remain in force, particularly those governing the security and supply of the German Armed Forces who are responsible for maintaining order. Obedience is essential. It is forbidden to raise prices or payments of any kind, unless especially authorised.
German troops have orders to respect the population and its property if it remains peaceful. If they cooperate loyally, local authorities can continue their present activities.
It is hoped the population will have the good sense to abstain from all inconsiderate activities - all acts of resistance - all acts of sabotage - all hostile acts against German Armed Forces will be constrained by severe counte measures.
All those who remain in their post and continues their job will be guaranteed thier usual rations. Consideration is being given to increasing these. Daily and monthly pay will continue to be honoured. Those who continue to work peacefully will render a service to their country, their people and themselves.
The Supreme Command of the German Armed Forces.
---
Translation:
The German Command of the Province of Vercelli - Regulations
1. Effective immediately, these orders apply to Biella and its all citizens
2. Any person bearing arms without authority will be shot.
3. Any person sheltering or protecting a bandit will be shot.
4. Should hostages be taken to prevent disorder, and that disorder continues, the hostages will be shot.
5. The dwellings of inhabitants resisting Germans will be destroyed by fire.
6. Curfew will prevail at 1900 hours. All public places will be shut. On the day of 22 December, all shops will be closed. Food shops only will reopen on December 23.
7. Walking in the street between 1900 hours and 0600 hours will only be permitted to those with special permits.
8. The sale of drinking alcohol is forbidden.
All citizens should resume work. Anybody defying any particular order will be executed.
---
Translation:
Biella Military Command - Order No2.
1. All Italian Army personnel who were on active duty on September 8, 1943, are to report, in uniform, within 2 days of this date. Those who do not obey will be treated as deserters, subject to military law, which includes the death penalty.
2. Any civilian possessing but not surrendering arms between these dates, will be shot.
3. Any supplies and equipment of the Italian Army must be handed over imediately.
4. Those giving refuge to Anglo-American escapees will be severely punished.
5. Anybody that gives food, supplies or civiliam clothing to Angleo-American escapees will be referred to the War Tribunal for the application of severe penalties.
---
ANZAC Partisans - Italy (AWM 54/781/6/7)
15352 Pte Patrick George Brown 6NZ Bde 2NZEF.
In September 11, 1943, Italian guards freed the 80 inmates of their work camp, 106/XIX/Salussola/Barracone. Brown and 3 others stayed for a few days and then went to Sala, where they met an Italian who promised to arrange for them to get to Switzerland. No guide was forthcoming and after a certain amount of firing by Germans in the village below, the escapers were persuaded to disappear into the hills. Brown went to Netro from where he and 6 others tried again to enter Switzerland, but had to turn back. They then went to Donato where they remained for five weeks, but had to move off because of Fascist activity.
On their return they lived in the hills above the village for a period of about two months during which time one of the party, Pte A.H.P. Smith 2/32nd Inf Bn AIF, was re-captured by Fascists in January, 1944. Owing to the difficulty in avoiding Fascists, Brown and another New Zealander, G.A. Schultz moved higher into the hills living in the snow. In March 1944, they descended to a lower level and joined a partisan band at Andrate until Brown left for France. Owing to the inability of the partisans to provide them with weapons, their activities were confined to occasional patrols.
T. Brown with two other New Zealanders and two Australians, shot and killed a fascist at Sala, early in July 1944. This man had previously denounced 5 partisans to the enemy who captured and executed them. In October, Brown was guided into France and with 24 other escapers was guided to the Americans at Val d'Isere on I November, 1944.
They included:
Drv V.E. Burberry NZASC
Pte C.W. Clarkson 2/28 Inf Btn
Pte J. Fitzgerald 2/28 Inf Btn
Pte F.S.G. Hungerford 2/15 Inf Btn
Drv G.W. Hammock 918 GT Coy RASC
Bdr W.J. Johnson 74 Fld Rgt RA
Drv E.T. Lockett RASC 200 Gds Motor Bdg
Pte J.W. McLean 26 Btn 2NZEF
Pte A.E.W. Morley 2/48 Inf Btn
Pte S.J. Monk 2/5 Essex
Pte E.H.V. Morris East Surreys
Pte J.C. Nelson 2/28 Inf Btn
Gnr C.W. Palmer 277 Bty HAA Rgt
Gnr R. Paton 3 Anti/Tank Rgt
Pte I.H.StG. Sproule 2/32 Inf Btn
Pte R.L. Vigar 2/28 Inf Btn
Pte A.G.L. Wainewright 2/28th Inf Btn
Pte G.A. Schulz 2 NZEF was reported alive and well although still in enemy territory in October 1944.
19556 Pte James William McLean was captured on 22 July, 1942 at El Alamein.
WX10462 Pte Edward William Morley was captured on 27 September 1942 at Alamein. Both had been in the same working camp 106/XIX/Salussola-"Barracone".
During the voyage of the "Nino Bixio" from Benghazi to Italy, with 2,000 allied POW on board, it was torpedoed about 24 hours out. McLean was wounded in the back. The ship was towed to Greece and he was sent to Patras as a walking casualty. After 10 days was sent to Bari Hospital by hospital ship where he remained until 27 September, 1943.
McLean went into the hills where they intended to wait for allied troops who they thought would be arriving immediately. A few days later they met an Italian who took them to Lilliana. On 22 October, they went to Netro where they stayed with an Italian family until January 1944. Then they moved into a small village in the mountains until the middle of October where they joined Brown and the others.
WX9612 Clarkson was in Palestro work camp Collabanio. He went to Piana del Ponte, where he joined with WX9970 Wainwright in Graglia.
WX9903 Nelson was at 106/Selvi, 5 miles SE of Vercelli with the Jobson brothers (2/7th Field Coy, RAE) and Cpl Joseph Newby (2/28th Inf Bn) and they went to Oropa. Nelson left Oropa at the end of September with Harry Davis a half caste Australian from the 2/32nd Inf Bn. They went to Piedicavallo and then to Val di Gressoney. Stayed at Fontanamora for 14 months.
WX9147 John Fitzgerald was at 106/XXVI/Carema.
Ray Vigar was at 106/XIX/Salusola and stayed in Burcina with Paton, Ryan and Thomas (NZEF). He was betrayed in S. Michele.
Sproule was in the Graglia area, and joined "Mustrili" partisans in Elvo valley.
NX34604 Roy Paton stayed near Ponte San Martino and Biella area.
VX26135 Sgt Reg James Crawley and VX33354 George Phipps 3LAA were captured on 29 May 1941 after "Hereward" was sunk in Kaso Straits. They were among 50 POW who were handcuffed in pairs and tied to poles for 8 hours. During the next 16 hours they were untied from the poles, but for the next fortnight, were still handcuffed for 6 hours a day.
VX33008 H.A. Anchen, 2/24th Inf Bn?, escaped from a train at a tunnel near S. Margherita. He walked to Favaleand with Phipps south as far as Chicero, moved on to Lorsica and moved again in July 1944, joining the 3 Bde Garibaldi partisans operating in the Tebbia valley. They were dispersed by German action in August 1944, but Anchen remained in the area until late 1944 with Leslie Arthur Drane, RAN, "HMS Bedouin".
WX5507 Pte John Betts stayed in Bogli working until linking up with Americans in Seravezza.
VX8431 Pte James Patrick Cahir 2/6 Inf Btn, 7044 Capt Ernest Hope Bishop, 27 NZ MG Btn was in PG 5 Gavi. In May 1942, with Lt. Riccomini, RASC and a New Zealander Roderick, dug a tunnel at PG 41 20 feet long and escaped to Montaldo to join partisans.
QX7647 Sgt Robert James Grierson Blackmore 2/15 Inf Bn captured near Derna April 7, 1941 escaped from PG 29 Veano after sentries deserted. Joined Gordon Lett (ex Indian Army) and his partisans at Rossano.
QX 5864 L/Cpl. Bill Bickerstaff was shot through the nose at PG 57.
NX17211 Gnr Garbutt 3 A Tank was in solitary confinement at PG 57 joined Lt Col Bayers party.
29086 James Morris (?) NZEF (?), NX9186 Ken Carson 2/4 Inf Btn liberated Mirabor evacuated from Yugoslavia August 17, 1944 together with NX26968 John Douglas also 2/4 Inf Btn.
Served with Italian Partisans
QX5457 George Alford 2/15 Inf Btn - AL via France
VX33003 Humphrey M. Anchen 2/3 LAA - with Orero partisans
WX066 Harold Ballard 2/28 Inf Btn - Rialmosso area
WX5507 John Betts 2/28 Inf Btn - underground at Bogli
QX7647 A/Sgt R.J.G. Blackmore 2/15 Inf Btn - joined Gordon Lett Rossano
WX7814 Danny Black 2/28 Inf Btn - with Stan Peebles
NX21419 William Blair 2/17 Inf Btn - Switzerland
QX13418 Fred Brockel 2/15 Inf Btn - Switzerland
VX8431 Jim Cahir 2/6 Inf Btn - underground at Bogli
VX46392 Alec Campbell 2/24 Inf Btn - Cherokee Mission?
WX9612 Charles Clarkson 2/28 Inf Btn - AL via France
VX26135 Sgt Reginald Crawley MID 2/3rd LAA - with Orero partisans
VX38610 Gordon Dare 2/24 Inf Btn - Cherokee Mission
WX13324 John "Lofty" Etteridge 2/28 Inf Btn - hospitalized in France
WX7032 John Fitzgerald 2/28 Inf Btn - AL via France
WX7755 Jim Gardiner 2/28 Inf Btn - with 111 Brigata Lys
NX17211 Allan Garbutt 2/3 A Tank - with Lt Col Bayer's group
QX8577 L/Cpl Seymour Gomersall 2/15 Inf Btn - Cherokee Mission
QX10626 Frank "Happy" Hungerford 2/15 Inf Btn - AL via France
VX47125 Lewis Johns 2/23 Inf Btn - Switzerland
VX29657 Cpl Keith Jones 2/24 Inf Btn - with Peebles - Gemista
VX34393 Cpl Matthew Knight 2/24 Inf Btn - underground in Italy?
WX3315 Reg Louden 2/28 Inf Btn - 110 "Fontanello" Garibaldi
WX7112 George Mallins 2/28 Inf Btn - Switzerland
NX21080 Robert Murray 2/13 Inf Btn With Italian partisans?
WX10462 Edward A. Morley 2/48 Inf Btn - AL via France
WX4445 Jim McMahon 2/28 Inf Btn - Ancona Adriatic
WX9903 John Charles Nelson 2/28 Inf Btn - Switzerland
VX32499 Patrick O'Donnell 2/24 Inf Btn
NX34604 Ray Paton 3 A Tank - AL via France
VX9884 John Desmond Peck DCM 2/7 Inf Btn - Switzerland
VX33354 George A. Phipps 2/3 LAA
QX7984 William R. Powell 2/15 Inf Btn - AL via France
VX37412 Jack Powling 3/32 Inf Btn - with Sproule
WX7619 Cpl Gordon Putland 2/28 Inf Btn - Switzerland
WX14978 Les Parker 2/32 Inf Btn - DOW with partisans
VX11755 Stanley E. Peebles 2/24 Inf Btn - with Keith Jones - Gemista
WX7292 Cpl John Rowe 2/28 Inf Btn - Switzerland
WX15065 Alfred Charles Scott 2/32 Inf Btn - with Sproule
WX9417 Alf Scott 2/28 Inf Btn - AL via France
VX26317 Richard C. Smith 2/23 Inf Btn - stayed with M. Knight
WX7019 Bill Smith 2/28 Inf Btn - AL via France
WX5289 Donald William Smith 2/28 Inf Btn - AL via France
WX9093 Ted A. Smith BEM 2/28 Inf Btn - Cherokee Mission
VX38618 Ian H. St.G. Sproule 2/32 Inf Btn - "Mustrili" AL France
VX46243 Frederick J. Tabram 2/24 Inf Btn - Italian Partisans?
QX5753 Sgt Ted Triffett 2/15 Inf Btn - Switzerland
WX13239 Ray Vigar 2/28 Inf Btn - AL via France
WX9970 Bert Wainewright 2/28 Inf Btn - AL via France
VX47958 Bill Waller 3 LAA - Switzerland
VX23397 Malcolm Webster 3 LAA - "Garibaldi" Partisans
WX6903 Norm Willacott 2/28 Inf Btn - AL via France
VX6959 Bill Wrigglesworth 2/2 Pioneers - "Garibaldi" Partisans
Lin Woolcock 3 LAA
CARO List of AIF POW deceased in Middle Eastern theatre of operations WW II.
Extract of those on list who died in Italy
(AIF Number, Name, Unit, Date of Death, Cause and Cemetary
SX2187 Sgt John Edgar Amos 2/8Amb - 07.03.43 - DOD
SX5311 Burt Ayliffe 2/43rd - 14.05.41 - DOW
WX7056 Henry Barnett 2/28th - 08.08.42 - Executed - Caserta
SX7905 John Spencer Bint 2/48th - 10.08.41 - DOW
VX46586 Harold Blain 2/24th - 08.05.44 - Executed - Milan
VX5102 Stuart E. Brown 2/5th - 07.08.42 - Shot escaping - Yugoslavia
VX1008 L Bdr Oswald Brown 6 Postal - 07.03.42 - Murdered - Austria
NX2464 Albert Ernest Bullivant 2/1 F/Wk - 01.07.41 - Suicide
QX1679 Colin Cargill 1 A Tank - 09.01.41 - Shot escaping
VX33414 A/Sgt Eugene Geraghty 2/24th - 26.05.43 - DOD
WX10951 William Harvey 2/32nd - 08.05.44 - Executed - Milan
SX5647 Eric Cecil Harrison 2/43rd - 27.05.41 - DOW
NX54257 Frank Johnstone 2/24th - 17.08.42 - DOW (N.B.)
VX34777 Edward McColl Knight 2/24th - 30.01.43 - DOD
NX53668 Osborn Norton-Knight 2/3 A Tank - 25.08.42 - DOD
VX34244 Thomas James Kennedy 2/24th - 13.05.43 - DOD
NX16597 John Laws 2/17th - 15.06.43 - Shot escaping
WX1664 Clive Liddell AASC - 08.05.44 - Executed Milan
VX45756 "Mick" McCracken 2/24th - 15.04.44 - Executed Varallo
WX11952 Harry Miller 2/28th - 08.05.44 - Executed Milan
NX54257 Ross Mudge 2/3 Pion - 13.11.43 - Shot Germans -Ivrea
NX11648 Charles Narramorte AASC - 01.07.41 - DOW
WX7406 Edward Newbey 2/28th - 07.12.42 - DOD - Udine
WX7090 Cpl John Nicholls 2/28 - 08.05.44 - Executed - Milan
VX34508 Patrick O'Rafferty 2/24th - 26.08.44 - Accident - Adelboden
WX14978 Leslie Parker MID 2/32nd - 13.08.44 - DOW - Milan
NX10075 Robert John Patterson 2/32nd - 05.09.42 - DOW at sea
QX4636 Charles Henry Perry 2/3rd LAA - 15.09.43 - Murdered
NX33837 William Douglas Pitt 2/13th - 26.01.43 - DOD
QX15655 Reginald Pymar 2/28th - 22.11.42 - Executed - Caserta
WX6083 Clarence Randall 2/28th - 25.08.43 - Executed - Udine
VX33210 Francis Simpson 2/24th - 09.01.42 - DOD
VX42361 Douglas Smedley 2/23rd - 24.04.44 - KIA
NX18262 Frank Nelson Smith 2/13th - 01.05.41 - DOW
WX1982 Cpl "Sox" Symons 2/32nd - 20.05.43 - Shot by guard - Udine
VX15648 Major Edwin Tivey 2/23rd - 26.05.43 - DOD - Altamura
WX14978 Ernest Stanley Wolfe 2/32nd - 08.05.44 - Executed - Milan
VX35149 Jack Wilson 2/24th -04.06.44 - Executed
CARO List of AIF POW deceased in Middle East Theatre of Operations WW II. Extract of those on list who died at sea in Italy on August 18, 1941 aboard the "Nino Bixio"

QX8089 Anthony Lavercombe 2/32nd
WX9618 Maurice William Lewis 2/28th
WX8372 Cpl. Herbert Edward Mason 2/28
WX8987 Daniel Mannix Maslen 2/28th
WX5372 Cpl. Selwyn Frank Maslin 2/28th
WX11972 Archie Graham Male 2/28th
QX5953 Leslie Norman McBeath 2/2MG
WX9106 Norman Francis McMeekin 2/28th
WX6549 Ernest Leo McGrade 2/28th
WX5581 Andrew McKenzie 2/28th
WX6004 Norman Hurtle McNess 2/28th
WX13178 Charles McPherson 2/28th
WX5810 Edwin Colin Merritt 2/28th
NX51424 Keith Morgan 2/2MG
WX7013 Harold Kiffen Miller 2/28th
WX11442 A/Cpl Ross Newland Moir 2/32nd
WX13593 Shamus Joseph Maunsell 2/28th
WX9435 Albert Henry Morris 2/28th
WX9424 William Arthur Morris 2/28th
WX4960 Richard Mervyn Mullane 2/28th
WX8627 Malcolm Saunders Mullane 2/28th
WX5914 Edward John Murphy 2/28th
WX4903 Hugh Clifford Nielsen 2/28th
WX14822 Ronald Nuttall 2/28th
WX13496 John Osborne 2/28th
WX5719 John Thomas Osborne 2/28th
WX14827 George Patterson 2/28th
NX33447 Keith Harrison Page 2/3 AT
WX3840 Richard Parker 2/28th
WX5294 William Victor Price 2/28th
WX7979 John Alfred Price 2/28th
WX202 Matthew Prosser 2/28th
NX27353 Alexander Roden 2/3 AT
WX8721 Peter Richards 2/28th
WX8806 John Fairfax Tancred 2/32nd
WX14416 Thomas Herbert Thompson 2/32nd
References:

AWM 54 781/6/6-7 - The "Parker" File
AWM 54 779/4/21 - Cpl Symons
Giuseppe Bacciagaluppi - Italian Patriot
Giuseppe Bacciagaluppi was an Italian engineer and was employed by F.A.C.E., the Italian subsidiary of the giant American Standard Electric Corporation, which had a factory in Milan producing telecommunications equipment. He spoke English fluently and in fact, was married to an English woman. The couple lived in a large home in Milan and also had a holiday cottage at Calde on the shores of Lago Maggiore, which is part of the border between Italy and Switzerland.
It is therefore not surprising that immediately after the Italian Armistice he and his wife set about establishing a network to assist Allied POW wandering near their home in Milan, to get to Switzerland, via Lago Maggiore. He recruited members of his factory staff, and sympathetic local Italians to organise this escape route and was given responsiblity and funds by the Committee for Liberation of North Italy to carry out this task. John Peck of Australia and George Patterson of Canada, became active and valuable members of this organisation.
Before he was betrayed by a colleague and arrested by the Gestapo on April 4, 1944, his organisation helped hundreds of Allied POW to reach sanctuary in neutral Switzerland. He managed to escape from from the San Vittore Prison in Milan on July 8, 1944 and immediately re-established himself in Lugano on the Swiss shores of the lake.
Known under the nom de guerres of "Ig Rossi" ,"Anfossi" and "Joe", his area of his responsibility and escape routes was divided into four zones:
1. Piemonte via Val d'ossola and Luino
2. Lombardia via Brescia, Bergamo and Varese
3 Emilia via Lago Maggiore.
4. Veneto via Brescia, Bergamo, Lake Como and Valtellina
The Milano network is credited with helping 965 Allied POW to reach Switzerland and the funds spent in these efforts totalled Lira 7,800,000.
The details are set out in his paper "Rapporto finale sull'attivita svolta dal CNLAI in favore di ex prigionieri di guerra di guerra alleanti" published in "Il Movimento di Liberazione in Italia Sommario", Nr. 33 Novembre, 1954.
His organisation made extensive use of the North Italian railway system.
For a good account in English of his partisan activities amd modus operandi see "A Strange Alliance" by Roger Absalom (F2 p39-44).
Guiseppe Bacciagaluppi was finally arrested and interned by the Swiss in January 1945, but escaped back into Liberated France. He was recommended for a British decoration for his outstanding help to the Allied cause, but this was rejected by the British Government on the ground that it was inappropriate to honour an Italian citizen.
Italian POW Casualty List
This list is divided into three separate lists:
1. All ANZAC casualties (333) click here for .pdf.
2. All Australian casuaties (73) click here for .pdf
3. All New Zealand casualties (260) click here for .pdf.
For an explanation of the abbreviations of "How died", click here.