Part 4 - Nominal Roll All AIF POW "Evades" in Switzerland
Chapter 4 - The Ninth Division
The 24th Brigade
The 24th Brigade was composed of the 2/28th, 2/32nd, and 2/43rd Infantry Battalions with associated Corps troops.
Brigade History:
"Red Platypus - A Record of the achievements of the 24th Australian Infantry Brigade, Ninth Division 1940-45", James Dudley Yeates and W.G. Loh.
"In the Field", September 1945, Imperial Printing Co. Perth, 1946
24th Brigade had been originally raised as part of the Eight Australian Division. It had initially comprised the Queensland raised 2/25th Inf Bn, the 2/28th from Western Australia and the 2/43rd from South Australia. The decision to transfer 24th Brigade to Ninth Division was not happily received, as it threatened to delay the Brigade's departure from Australia to the fighting in the Middle East.
24th Brigade sailed from Australia with only two of its three battalions, the 2/25th having been held at Darwin where it formed part of the garrison there. The 2/25th was replaced by the 2/32nd, a Battalion formed from elements of the Sixth Division which had been diverted to England in 1940.
2/43rd Infantry Battalion
B34 "The 2/43rd Infantry Battalion 1940 - 1946". Editors Gordon Combe MC, Frank Ligertwood ED, Tom Gilchrist, 1972. Re-printed John Burridge, Perth 1980/9.
"Desert Sand, and Jungle Green" Oldham, Beddome and Meredith, Hobart, 1948.
2/28th Infantry Battalion
B32 "The Second 28th - The Story of a Famous Battalion of the 9th Australian Division" (With Appendix - The 24th Anti-Tank Company), Philip Masel, John Burridge Military Antiques, Perth, 1955. ISBN 0646256181.
F25 "Australia Remembers", Philip Loffman, self published, in loose leaf format
updated periodically.
F24 "Partisan" - the story of WX5292 Cpl John Wilfred Rowe as told to Keith Hooper, 1982, Australian War Museum.
It was the 2/28th Battalion that on the first day of the siege of Tobruk, used captured Italian field guns that had had their sighting mechanisms removed or destroyed - the so-called "Bush Artillery" - to fool Rommel into halting his attack which otherwise would have seen Tobruk captured by the Germans.
But Rommel had his revenge at Ruin Ridge at El Alamein on the 29th July, 1942, when his Afrika Korps was to virtually wipe out the entire Battalion and its supporting troops. At that battle, 433 men of the 2/28th were taken POW, including, on his first command, Lt Col Lew McCarter MC. 29 of these men were to die when the boat taking them across the Mediterranean to Italy - the "Nino Bixio" - was torpedoed off the coast of Crete. 85 managed to escape into neutral Switzerland, the largest number of "representatives" from any one of the 36 AIF units whose members made it to Switzerland. These totalled 420 Australian POW "escapees". There were 16 RAAF "escapees" and 3 RAAF "internees".
In all, 437 Australian servicemen reached Switzerland and one RAAF airmen is buried there at Vevey (see story of "R for Robert" in "Alpine Airmen").
Others who escaped in Italy reached Allied lines, some stayed on there and fought with partisan groups, some died with them on active service, some were re-captured and executed, but most ended up in German prison camps as the Germans ignored the conditions of the Italian Armistice and fought determinedly on in Italy.
Since Philip Loffman's "POW" is constantly being updated and the Unit History describes the battle for Ruin Ridge in great detail, this Recorder will confine himself to his own impression of that fateful night that was to see him end up in Switzerland, together with five other sappers from the 2/7th Field Company, RAE.
Here is VX39694 Sapper Bill Rudd's version of that event.
"The night attack on Ruin Ridge had been organised to coincide with a British infantry attack from the South and was to be supported by British tanks at daybreak. The 2/28th Battalion under Lt Col Lew McCarter was given the job and were supported by specialised troops from the 2/2nd MG, 2/3rd Anti Tank and 15 sappers of the 2/7th Field Company under Lt Ken Bradshaw. The infantry were given the task of reaching Ruin Ridge from an assembly and start line some 1,000 feet in front of their forward positions.
"The job of the sappers was to clear gaps in the minefield on either side of the centre line, through which support vehicles would bring up ammunition and other supplies to the forward troops. While both these tasks were completed without complications and the infantry dug in, with the gaps in the minefield clearly staked and taped, the support vehicles ran into trouble. An anti-tank portee hit a mine about 100 yards from the cleared marks and other support trucks silhouetted against the blaze became targets for a German 50mm field gun which quickly added more blazing vehicles to it. Together with star shells and flares the battlefield was more like midday than midnight!
"The German guns on the right flank were having a field day, and the German voices were close enough to be understandable. I caught up with the infantry and reported this to an officer. But he already knew. "Dig in with us" he said. I saw Davy Payne was already doing that and so I dug in with him, and listened to Battalion HQ vainly trying to get their radio to work.

"The false dawn revealed us spread over the top of the ridge for about a quarter of a square mile. There was an anti-tank gun set up on our right flank and we could hear the rumble of approaching tanks, and the sounds of machine guns. But as the sky brightened and the tanks closed in, their German crosses became only too visible. There was not a sign of any British tanks, which had apparently failed to start on time and never reached the site of the battle.
"The British infantry had also apparently failed to clear their first minefield gap and when two of their battalions tried to get through simultaneously, they were overrun by German tanks and lorried infantry and, I believe, lost some 600 POW.

"The German tanks were moving towards us spitting heavy fire, and armoured cars came from behind them pluming dust and racing through the tanks like a flotilla of destroyers circling through some heavy cruisers.

"Ironically at this point the wireless set crackled into life and I could hear an order being given. Then I heard the Colonel say "we're in trouble" and he gave our co-ordinates and requested our artillery to fire on our position. The crew of the anti-tank gun began firing. It got away a couple of shots and then was knocked out.
"The armoured cars fanned out behind us and young Germans in cloth caps waving machine guns, gestured to us to get out of our shallow trenches. The German tanks began to methodically run up the slit trenches with their tracks, directing a vicious burst of machine gun fire at anybody slow to climb out and put up their hands above their heads. They seemed oblivious to the artillery fire which began to rain on our position. The Colonel put up his hands and Davy and I did likewise. It was a simple as that.
"Thus, as the sun rose higher in the sky some 500 Australian soldiers were loaded into Italian and German trucks and brought back to the rear behind the battlefield. As the trucks backed up to load us out of the area, the Colonel was given permission to make us a short speech. Having only just been promoted to the 2/28th from the 2/32nd Bn, he praised us for having achieved our objective against such strong opposition, and that we deserved a better deal from Brigade than this.
"Sapper Bob Hooper said to me "we should have fought our way back", but why and with what? We certainly had not been given orders to do so, and if truth be told, none of us expected to be welcomed at dawn with tanks other than our own.
"And it was really only later, huddled against the mesh of the wire holding cage in the rear, came the realisation that it wasn't a dream, that it was an event that was actually happening to us. Ken Bradshaw and the other officers were taken away first and the rest of us loaded into other trucks which brought us back to Benghazi. Some of us went to "the Palms", a prison camp to the East, and the remainder went to "the Salt Lake" another camp to the south near the harbour. It was really only then, among the squalor and rough conditions of those Benghazi camps, that the full disaster of being a POW began to sink in. First the complete inability to pursue the regular routine of personal hygiene. The lack of food and drink. The heat and flies and complete absence of any medical help. The difficulty of not understanding any of our captors language. For we had been handed over to the Italians as their prisoners as El Alamein was in Libya,and an Italian protectorate.
"By and large, Australian soldiers dislike being given orders, especially if they consider them senseless and counter-productive. But by the same token, orders issued by those that have earned their respect and loyalty are willingly and constructively obeyed. Those Germans of the elite 50th Light Armoured Division who herded us behind the lines held our respect as disciplined and worthy opponents, and at least I could handle their language, but not so our impression of our Italian guards. "A bunch of strutting roosters," Davy Payne called them.
"That view was to be modified somewhat later on in North Italy but meanwhile we were as impotent as a pen of sheep waiting to be taken to the shearing shed."

With acknowledgments and Thanks to:
Paddy Bradley
Charles Clarkson
Maria Daglish-Staub
Fran Looby
Phil Loffman
Tora McNamara
Ray Middleton
Nelma and Gordon Putland
Jim Paterson
George Rea
Tom Stenhouse
Pat Toovey
Bert Wainewright
John Watson
WX9612 Charles Clarkson 2/28 Inf Bn
Work Camp 106/XIX Salusolla - "Barracone", was one of the larger work camps in the rice-rowing area of Vercelli between Milan and Turin in North Italy. A State-run farm, it was home to 40 New Zealanders and 40 Australians. Of the Australians 14 were from the 2/28th Inf Bn and 8 were from the 2/32nd. On the signing of the Italian Armistice, Ray Vigar and Norm Willacott of the 2/28th and Alf Scott of the 2/32nd escaped to fight on with the Italian partisans. They were joined by Charlie Clarkson, who had escaped from a neighbouring work camp IO6 "Petiva", and two others from the 2/28th, Bill Smith and Jack Fitzgerald (who was later to lead an entire group of Australians into France and freedom).
Charlie and his mates were later to be joined by Danny Black, and Bert Wainewright of the 2/28th, Les Parker and Ian Sproule of the 2/32nd, Ray Paton of the 2/3 A Tank, Ted Morley of the 2/48th and "Happy" Hungerford of the 2/15th, in resistance operations in the general area of the textile town of Biella.
Armed with Sten guns and grenades dropped from RAF planes, they split up into detachments of about 10 men, in which at least two members were Australians so that they could help each other if they ran into trouble. They carried on an active campaign of sabotage which on August 13, 1944 culminated in an attack on a large German convoy near the village of Zubiena on the Ivrea - Biella road. Many German officers will killed in this attack and the after-reaction by the Germans was swift and sustained. Les Parker was badly injured by a German mortar, and subsequently succumbed to his wounds. He was buried in the village of Terrazzo at night with some 20 Australian and New Zealanders attending his funeral. He now lies in Milan Cemetery.
Other Australians joined with different partisan groups, or drifted in an out of them. Most found the eternal political bickering an unneccessary distraction from fighting the enemy, and in the early days they had virtually nothing to fight with.
Ean Sproule gives an good account of the experiences of 2/28th and 2/32nd escapees in his book "Australian Partisan" F6 as does Malcolm Webster who teamed with many of his mates from the 2/3 LAA and has written about his partisan life in a limited self-published book "An Italian Experience" F4. Bill Bunbury, a social history reporter from the ABC has written "Rabbits and Spaghetti" F26, which not only looks at the life of AIF POW in Italy, but at Italian POW in Australia together with Italians interned here at the outbreak of the war. The story of Australian partisans, is as much about mateship, irrrespective of unit, and a desire to continue active service against the enemy, as much as anything else.
In general terms there may have been 8,000 Australian POW in the Middle East. Approximately half becoming prisoner in the fighting in Cyrenaica, Greece and Crete in the "early days" of the desert war, and the other half from the operations of the Ninth Australian Division centred around the battles of El Alamein. Of the latter, 3,000 odd were to become German POW and join their colleagues in Germany and its satellite countries.
WX7619 Cpl Gordon James Putland 2/28th Inf Bn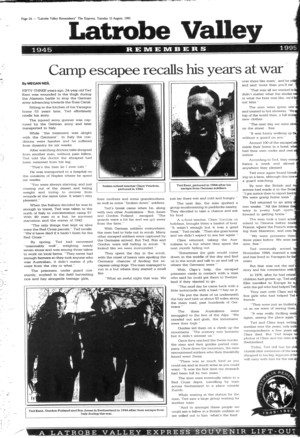 Gordon started his military life in December 1938 in the militia as an instructor on Lewis guns, and was able to make his way into the AIF in July, 1940 when he joined the 2/28th in Tobruk. He was a "rat" there for nearly six months.
After the 9th Division was pulled back out of Tobruk to rest, re-group and carry out peacekeeping duties in Lebanon and Syria, it was ordered to go back to the desert when Rommel looked poised to reach his ultimate objective - Cairo. In the fierce fighting to stop him at El Alamein, Gordon was wounded and taken POW in the debacle of Ruin Ridge on July 28/29 1942, when the 2/28th was virtually wiped out. His first conscious recollection of that battle, was waking up on a ship en route to Italy and hearing a German doctor counting, as he dislodged and removed pieces of shrapnel from his head and various parts of his anatomy.
"The hospital staff in Caserta, where I ended up, plastered my body from head to heels, bandaged my eyes and generally, despite the lack of anaesthetics, looked after us as well as could be expected. The nuns who tended us were kind and my main regret was the lack of Aussie company. Patients were a mixed lot - mainly Poms and South Africans - I can't recall any other Australians being there. Perhaps because I was for so long confined to bed and unable to see, I found by listening and conversing to the nuns I managed to pick up a fair smattering of the Italian language.
A poignant memory that is with me to this day is hearing a South African negro singing from the balcony upstairs - for all the world to hear - Ave Maria. A glorious deep voice full of the style of Paul Robeson - bringing tears to my eyes.
"I wasn't entirely useless and as my wounds improved was put to use in an unorthodox way. The electric globe had gone kaput and it seemed no ladder was available to put in a replacement globe. So being stiff with plaster, I was the ideal instrument for this operation. A group of the blokes hoisted me into the air - replacement globe in hand - blindly groping with the other, under instructions from all and sundry - only to discover that by placing the fingers in an electric socket in an ancient Italian hospital was a sure way to cause disruption. It threw me, my holders, and the globe right across the room. I can't remember if we ever did replace that globe.
"Every Digger has a story of extreme good fortune to tell and for me not the least was the manner in which my sight slowly returned. I became fairly used to the fact that my eyes would never be too good again ... and then one day, I was using the squat type toilets that were the only ones available in this ancient building - straining somewhat - when my forehead started gushing blood - I heard a metallic sound on the floor and I passed out only to revive rapidly when collected - discussed at length by several Italian doctors and stitched (minus anaesthetics) up. It seems that a largish piece of shrapnel had been pressing on a significant nerve and artery, and the straining in the toilet had caused it, literally, to pop out. Maybe not the stuff of a great miracle, but one that was of great benefit to me.
"I had skin grafts done to my face (a patch of very white skin on my side, still shows from where it was taken) and this was taking nicely - I could see reasonably well again, and the plaster had been taken off my legs and they were actually mobile. So the next step was a trip to a regular prison camp After 10 months in that hospital I was transferred to Campo Concentramento PG 57 Gruppignano, Udine, up near the Italian/Yugoslav border.
"The idea of escape is always with anyone under these circumstances and I had a fair bit of time to consider the pros and cons. One thought was the fact that I believed that one person couldn't go it alone ... two of you stood more chance ... but that any more would create a division of possibilities. So I was pretty lucky when I came in contact with an Eastern Stater with the same thoughts on escape ... I had also worked out that in my opinion, the most likely place for success was a working camp ... the areas surrounding these camps was open to the ideas we had, providing that we were able to get on the right (or the wrong ) sides of the prison guards. So after a spell of solitary confinement for a session of spitting at and in general disparagement of guards in particular and Italians in general, and after sussing out the guards who were most susceptible to the taste of vino, our plans were beginning to take place.
"I must point out that a lot of the Italian folk were more than happy to assist anyone of the British forces and while in an underground cage, serving my solitary confinement punishment, I was kindly looked after by several of the villagers who took the risk and brought me (and others) small quantities of bread and cheese which they proceeded to poke through the bars at ground level. Our main chance came with the knowledge that a certain guard had a very low resistance to alcohol and could be off with the fairies by the end of his shift. It was relatively easy to see that he was provided with an extra supply of our drinking wine and he made an easy target for a bump on the head and for us to shoot through. (This was fom a work camp at Casa L'Rossa, one of the many controlled from Vercelli 106.)
"My partner in all this was a chap by the name of Ron Jones, who came from the East of Australia ... and that is all I ever knew about him during our time together, except for the fact that he was a good mate and we managed to hit it off well all the time we spent travelling the length and breadth of Italy and endeavouring to keep out of the sight of the Germans. Initially we headed south, but the final stand that was taking place at that stage of the war was pretty widespread and strong, as anybody engaged in the conflict will verify, and we turned our way north again with thoughts of Switzerland fairly prominent. On a couple of occasions we joined up with the Italian partisans, but as they had a policy of making all weapons communal poperty, and we didn't agree with that, our stays with them were of necessity very short. They were doing the job for their country as they saw it, and were a rough, tough group of chaps.
"On one never to be forgotten occasion, when we were with the partisans at one stage and their camp was a commune type in one area, Ron and I were not comfortable with this arrangement, and opted to take ourselves off to a small hut some 300 yards away. This turned out to be a fortunate decision as we were awakened about 4 am in the morning to hear the partisan group being rounded up by German soldiers. We will never know whether they had been betrayed or if it was just a lucky break for the Germans. We took off with the sound of tracker dogs after us. We still call this event the "Day of the Dogs", and I can still recall the expectation of being ripped to bits by the savage german shepherd dogs and their handlers. Our luck held - it started to rain and we came to a small stream - both of which assisted to cut out the scent for the animals.
"We managed to get work on several occasions - tending stock and planting rice - using the "spot the dialect method" - Ron and I claiming to be from wherever ... each town in Italy seems to have its own particular method of speech. In these times we slept warm in a hayshed and ate well. It seems we may not have been fooling anyone, as on the last occasion that we were gainfully employed, the boss arrived with a gift of salami, bread and cheese, and sent us on our way. German troops were expected in that village on that day. We expressed our thanks (in English this time) and gratefully shot through.
"At other times we ate whenever anything was available - begged or stolen. The fungi mushroomy growths were much on the menu. I found a tree with leaves, that when crumbled and rolled into scraps of paper made a passable cigarette, and as a smoker in those days, quite enjoyable, although Ron did pass the comment that after each cigarette, I would become as high as a kite and he maintains that those leaves were capable of making me walk on air. I wonder what the name of that tree is? I never did know.
"Ron was becoming progressively ill and each day became an effort for him. We settled in a shed near a stream and his condition seemed crucial enough for me to try for some remedies. It was freezing time and with no knowledge of medicines I scooped up the ice from the stream and made a compress for his extremely painful belly. Then set off to the village to try for some help. After some searching I was fortunate enough to approach a schoolteacher who didn't seem bothered by the fact that we were the enemy and directed me to the local doctor. He in his kindness came to the shed and declared that Ron was having a difficult appendix problem but that the ice-pack had done the trick for now. This was corroborated by the Australian doctor who removed the appendix back in Australia, saying that it had been the necessary thing to do at the time.
"The schoolteacher Clara, and her sister Gabriella, became good friends to us in that period and daily brought goodies to Ron and me, and I am sure that a bit better food intake helped to improve Ron's condition. Through the girls we were also able to contact the underground teams who seemed to crop up everywhere in Italy. We were directed to a certain shop - a cobblers. We were taken in a cart to the foothills of the Alps (always to my shame, I remember keeping a weapon surreptitiously on our helpers, trust was a non-event in those days) and provided with a guide to lead us over the initial part of our journey over the Alps. Looking back over the years it seems now to have been an impossible task - and would of course, be for us these days - but we were young and eager to put an end to our travel under cover ... and with the company of a guide and a highly decorated officer in the Italian Navy, who also for some unknown reason needed to head for Switzerland, we set off.
"It was winter time and the going was not so easy, but each kilometre brought us nearer to our goal. The guide left us at one stage - settlling us in a mountain hut for a rest with instructions on the next paths to follow. He kindly supplied us with some brandy for warmth and some tucker, and headed back down the trail - no doubt to repeat the whole process again in his continual efforts to help the Allies. I still have wondering memories of this Italian naval officer who joined with us for this trip. He was resplendent in his uniform - medal ribbons in place at all times, and seemed to have an endless supply of brandy and cigarettes. I had doubts about arriving in a neutral country with such an obvious type and it became a bone of contention between Ron and I as to whether we stay in his company or not. So much so that when we did get to the Swiss outpost we came to the parting of the ways and quarrelled. Ron going his way and me to mine. I guess it was the result of nerves and tension associated with the situation, but for years I searched for Ron in an effort to correct the sad ending of our time together.
"When we reached the top of the mountain pass and saw the Swiss border huts so far beneath us in the valley, the emotion was beyond words and as we looked at this place of safety after so long on the road, it took Ron about 2 minutes to settle his backside on the haversack he was carrying and slide down the mountain glacier, and I wasn't far behind him. (Another Australian, Ted Kent of the 2/3rd Anti-Tank Regiment joined them). We were then taken to the town of Bourge St. Pierre where we were interrogated, then via a couple of small villages and finally to Dergesheim. Here we were provided with uniforms and spent some time in this town ... gave us the opportunity teach the local Swiss population the ins and outs of "Two Up".
"Probably because we were very early escapees, the Swiss had a bit of a problem deciding what to do with us and finally myself and three English POWs volunteered to work cutting timber. Our next move was to Bornhausen, which was a sort of transportable camp where those of us who were NCOs along with two New Zealand officers were given permission to find work if possible. Across the lake at Bornhausen was enemy territory and I will never forget the day the Allies sent their great flight into Germany, standing and watching the sky turn black with planes and realising that at last the Germans were being overcome. Quite some memory!
"I worked with a German speaking carpenter and we spent our leisure time in Stein am Rhein at a hotel owned by an elderly couple with three lovely daughters and a son. I had become friendly with an English soldier named John Thompson (Dunham Light Infantry). Both John and I became friendly with this family and their care and friendship was much appreciated.
"Another of a more sentimental memory was hearing via the radio, an English singer - name of Izzy Bonn - who for some reason seemed to me to beat all the other singers in the world at that stage. However I couldn't find anyone else who had heard of him and finally began to doubt my own memory. Our son was to visit England in about 1985 and he offered to bring back a gift on his return. I gave him the task of checking details of Izzy and asked him to check if this singer did actully exist. He not only learned of the singer but managed to get the relevant museum to tape a selection of his songs and bring them home to me. I valued his voice as sweet as ever and satisfied the powers of my memory.
"When we were finally repatriated in September 1944, John and I went from Switzerland through France to Marseilles, where John and I parted company, he to get a ship to England and me to make my way on an American Liberty ship to Naples and then on to India (where I had a new lightweight uniform made). Finally on to Australia, arriving at Melbourne, where we were given a welcome home parade and I ultimately took a train back to Perth.
"My wife and I decided to make a return visit to Switzerland and although we had not corresponded with the Boerchensteins for many years, a letter addressed to the family was passed on to Zurich where the girls were living and we were able to spend some very happy hours with them. We were fortunate that a relative of theirs of some sort worked in the Stein am Rhein post office and contacted the family. We still exchange Christmas letters and although time is running out would love to visit them again".
(When they entered Switzerland the trio of Gordon Putland, Ron Jones and Ted Kent were duly processed, and went to different Swiss "camps". They never met up again, until they finally managed to do so in Australia, and that only occured after a lapse of many years.)
WX6366 A/Cpl George Christopher Rea
The Train Ride into Switzerland
The rescue network for Allied escapees organised in Northern Italy by Guiseppe Bacciageluppi and John Peck may well have been behind the plan that resulted in the last group of men from the 2/28th Inf Bn to enter Switzerland.
WX10009 Jack Dodd, WX5933 Doug LeFevre, WX6366 George Rea and WX14583 Norm Terrell had stuck together since they escaped from the rice farm "Lachele" south of Vercelli.
However, as they were unhappy to be a source of danger to their Italian protectors, they eagerly fell in with a plan to get them across the border into Switzerland. George Rea describes how it was done:
"We waited in the town square alongside the station of Vercelli, North Italy, for the train to take us on our way to the Swiss border. We had been loose for some months after the Italians had signed the armistice. All escaped POW had a price upon their heads and anybody helping them was in danger of fierce reprisals from the Germans and the Italian Fascists. Working on the farm at "Lachele" during the transplanting of the rice, was just like in the Italian film "Bitter Rice" with all the townspeople brought out to do the work, only in the film, it was the harvesting of the rice, not the planting.
"We were here due to an "unknown to me" Australian who was organising escapes out of Italy. Local people had raised the money to pay the guides through the mountains, and had supplied us with overcoats. We had already changed into our civilian, we were given tickets that were never checked (I still have them) for two trains and now it was getting dark, our train came in and we made our way onto the station.
"There were German officers and soldiers getting on and off the train, we were guided to a good van down the train. It was dark in the van. We got in, we could not see anybody but knew others were there. No word was spoken, the door shut and we were on our way. After some time the train stopped at a brightly lit station - "Novara". We stood about and saw that about 12 English POW were with us. A train, all lights, came in and we got in and sat among the civilians. No one came near us or spoke and on we went until we stopped at a station - "Verbania-Pallanza" and got out. By this time it was daylight, all our party walked along a road into the mountains for 8 miles, then we left the road, and began climbing up a path.
"For two or three days, each guide rushed us through his area as fast as we could go. During this time, all we had to eat was a cup of rice a day. After two or three days we crossed a main highway to a pass Simplon (?) into Switzerland, but this pass was not open to us. We joined a road that took us on our way until a guide turned off and started climbing until he stopped and pointed to the border. He was a far as he would go. He took our overcoats. After some difficulty we got to the top of a ridge and an unmanned border post.
"We saw, way down a long, steep slope of ice and snow, what looked like houses. So sliding on our bottoms, sitting on our shoes, down we went. There was no coming back. We saw small figures come out to watch us and later they turned out to be soldiers. They took us into a building and gave each one of us a cigarette. I was a non-smoker but I smoked it. After a while a truck came and took us to a town - Locarno (?) - further inland where we were processed. We were classed as "evades" and given a type of passport by the British officer there. We were given a British battledress uniform, a black beret, black British army boots, greatcoat etc., like we had in Italy and which we had swapped for civilian clothes there.
"We were sent to a village, St. Peterzell, in the St. Gallen area near the German border. Later we went to Caux-Montreux near Geneva. At Caux we were billetted in the Palace Hotel and all NCOs were given a duty. I was a Lance/Corporal and I was made Quarter-Master Sergeant, looking after supplies etc. I had a list of all the Australians in Switzerland but later lost it.
"We had crossed the border about 4 days after Christmas 1943 and spent 10 months there. All Australians left Switzerland on the first train to Marseilles after the Americans landed and cleared South France. Were two days there and we boarded an American Tank Landing Ship for Naples, and then taken on to Bombay on our way to Melbourne. In Naples we walked out to Pompeii and had a look at the ruins and when passing down south of Italy, we saw the volcano burning down the side of Mt. Etna during the night. We left Switzerland on November 17, 1944. It took 56 days from Geneva to Melbourne".
References:
F26 "Rabbits and Spaghetti", Bill Bunbury, 1995. ISBN 1863681221 p106.
F25 "POW", Phil Loffman, 2/28th, self published, Western Australia, p64.
Acknowledgments and Thanks to George Rea.
WX5282 Cpl Jack Wilfred Rowe 2/28th Inf Bn
The Last Man Standing
This is how the Recorder remembers Jack "Wilf" Rowe, the last of the 420 AIF POW ex-Italy to become an "evade'" in Switzerland. His date of entry was January 20, 1945!
By this date, there were only two Australian "evades" still remaining in Switzerland, Flight Lieutenant Fred Eggleston, RAAF on secondment to the British Embassy in Bern, and Sergeant Bill Rudd AIF on secondment to the British Consulate in Geneva. Fred was sent back to London on January 21, and Bill two weeks later, February 8.
Jack finally arrived back at the AIF Reception Centre at Eastbourne on March 3, 1945, having been held back as a witness at a Swiss Judicial Court of Enquiry into the circumstances surrounding the entry of his party into Switzerland. He was promoted to Sergeant at Eastbourne and subsequently awarded the Italy Star. On his return to Australia he was discharged and lived quietly in Adelaide.
In 1951, he told his story to Keith Hooper, a military correspondent of the "Sydney Morning Herald" who was then with the "Adelaide Advertiser". Lt Col Lew McCarter MC wrote a foreword to the manuscript which was titled "Partisan" by Keith Hooper in conjunction with "The Partisan" F24 Jack Rowe. Keith Hooper sent the manuscript to Gavin Long, the official AIF war historian who was writing the volumes "To Benghazi" and "Greece-Crete and Syria" as he felt it would contain information of interest to him, and then went on a long assignment overseas.
The manuscript lay in the archives of the Australian War Memorial for thirty years, until it was given back to Keith Hooper. On re-reading it, Keith Hopper decided that nothing should be changed and left it in the AWM archives, where it is still available to researchers today.
But to backtrack to Sergeant, then Corporal. Jack Rowe:
He was taken prisoner when the whole battalion was forced to surrender at Ruin Ridge, El Alamein and finished his stint as an Italian POW at Campo 106 Vercelli/Brianca, a large farm halfway between Santhia and Cavaglia. He was actually in Vercelli Hospital recovering from malaria when the Italian Armistice was signed.
He formed a lasting attachment with a neighbouring farming family, the Faga family, who virtually formed his base of operations when he decided to stay on in Italy when he escaped to join the band of Partisans lead by the communist Cino Moscatelli, whose "Garibaldi" Partisan Division operated between the country north of Biella and the Swiss border in the Varallo/Forbello district - home also to John Peck and "Butch" Jocumsen. This area was later to be controlled by the British Mission "Cherokee" to whom they had been seconded from Switzerland as British Liaison Officers.
Another member of the 2/28th, WX9093 Edward Athley Smith was also a member of that Mission and was awarded the MBE for his services to it.
This British Mission was lead by a Major McDonald, who in the winter of 1944/45 gave any escapee serving under him, an opportunity of getting into Switzerland via a safe route he had organised with the partisans under his control. When he called for volunteers to test it out, Major McDonald made it very clear that the route was difficult and success was not guaranteed. He would have to organise passports to ensure safe conduct from one partisan detachment to another, together with local guides to make sure they got to the Swiss frontier. It would be a difficult and dangerous hike in the middle of winter.
Jack Rowe, Darcy Henderson, Bing Jackson and another Australian who later dropped out, were among the volunteers. The Major gave the envelopes of introduction to Cpl Jack Rowe, gave him instructions, shook hands with all and wished them "Good Luck".
Jack Rowe's party grew in size. He was joined by 3 South Africans ("Fish" Welch, Charles van Rensberg and Eric Welsh), two New Zealanders (Roy Cameron and Bill Frost) and Sgt Len Hoyne and two other Americans who were survivors of an American bomber shot down near Florence. By the time they got to the last stage of their journey, 4 others, including 3 Russians had joined them, making a total group of 15 escapees. Despite being outranked by some of these newcomers, Jack Rowe was unanimously appointed the party leader.
The last stage of the journey became a nightmare. As dusk began to fall a blizzard blew up and the party split into small groups. The tail enders struck real trouble, as they ran into a Swiss frontier guard who turned them back to a hut further up the mountain down which they were staggering. One of the Americans fell, with the hut only a few hundred yards away. Eric Welsh, the brother of "Fish", who had taken charge of that group urged them on to little avail. In all 3 men died before they reached the hut. They never made it to Brissago like the others.
Jack Rowe ends his manuscript in these words:
"I never heard the result of the enquiry, we didn't care. All we knew was that 3 of our cobbers had died where there were no bullets flying, no shells falling, no steel flashing. They died, not half an hours distance from Brissago, the goal after weeks of nightmare climbing over the Alps. Their bodies were found under feet of snow the next day by the St. Bernard dog we had so much admired. They were buried with full military honours in the cemetery beside Lake Maggiore. Although we hated the Swiss guards, we liked the Swiss civilians. We made many grand friends. Everybody was sympathetic and kind. They weren't proud of the guards who had let our cobbers die".
References:
"Partisan" by Keith Hooper
F24 "The Partisan" by Jack Rowe 1951. AWM.
WX9970 Bert Wainwright 2/28 Inf Bn
After his capture at Ruin Ridge, El Alamein, Bert Wainwright was one of the large group of POW from that battle to be held at the Benghazi transit camps, pending shipment across the Mediterranean to Italy. He was eventually allotted to the group loaded onto the "Sestriere". Another group, which also contained many of the 2/28th survivors, being loaded on to the second ship of the two ship convoy, the "Nino Bixio".
When the "Nino Bixio" was torpedoed, the "Sestriere" sped off to Greece and through the Corinth Canal to Italy. Sent on to Campo 57, at Gruppignano in the far north of Italy near the Yugoslav border, in due course, nearly all surviving POW of the 2/28th Bn were initially gathered together in that infamous camp.
In summer of the following year, Bert was among those Australian and New Zealand other ranks, drafted out to the working camp complex of 106/Vercelli, ending up with a group of about 50 Australian POW from various units at a rice-growing farm "Petiva". Helped by the camp-leader, a Victorian Sgt, John Worsfold, who had managed to be sent out to a work-camp despite his rank, Bert and the camp interpreter, Johnny Moore, a Tasmanian signaller, managed to escape. They then split up, with Johnny Moore heading for France, and Bert heading for Switzerland.
Unfortunately, after 14 days "on the loose", Bert had a bad fall and shortly afterwards was re-captured and taken back to "Petiva". There he was put in a small, stone duck pen where he was surprised to find 3 other Australians already in residence. One was Johnny Moore, who had also been re-captured after a short spell of freedom. The other two, who had escaped from a neighbouring farm, were Jack Giles and George "Bomber" Brown (of the 2/24th Bn), who he remembers talking a lot about the Murray cod they used to catch in that river, near their homes.
The 4 Australians were kept in that duck pen for 31 days. It was very small and the ceiling only 6 feet high, and Jack Giles, who was over six feet, could not stand up straight. Finally they were transferred to high security prison in Vercelli, where there were some 30 other Australian POWs including John Peck (2/7 Inf Bn) and Ron Strickland (2/28 Inf Bn). Bert and Ron again escaped from this prison, were again re-captured, and again returned to Vercelli prison. When the Italian Armistice was announced, another escape opportunity presented itself. Having heard from the local Italians that a group of escapees had gathered at the edge of the foothills to be lead to Switzerland by organised guides, a group of 6 of the "Petiva" POWs headed to the gathering spot (Sanctuario d'Oropa) and were surprised to find more than 60 escapees gathered there.
They were to leave for Switzerland the next day, but as it looked "dicey" to Bert and Ron, they slept the night in some thick scrub a little away from the group. It did indeed turn out to be a trap, and while most of the escapees were recaptured, a few including Bert and Ron got away and headed into the mountains. Having heard that the Germans had tightened up on all escape routes, they decided to wait for the Allies to reach North Italy, although they knew the Allied advance had been slowed down. As they had heard of Partisans forming groups throughout the mountains, Bert joined a group north of Biella on Mount Mucrone. He remained with them for over 12 months being constantly hounded by Germans and their Italian Fascist allies. Once he was picked up by a German and 12 Italians and taken to the German HQ at the Hotel Principia in Biella, but miraculously escaped and rejoined the partisans and caused the Germans much exasperation and damage.
Then Jack Fitzgerald (2/28 Inf Bn) got onto a foolproof escape route to France, with Italian guides. It took 9 days to get to France via the Aosta Valley, skirting the Swiss border at the foot of Mont Blanc and crossing the French border into Savoie in very rough weather. The escape party ran right into a blizzard making it almost impossible for one man to see another in front. But by holding hands they cleared the rough weather and finally ran into an American patrol who interrogated them and sent them on to their headquarters in Grenoble.
Accompanied by three unknown airmen, the party consisted of:
Charlie Clarkson 2/28
Lofty Etteridge 2/28
Jack Fitzgerald 2/28
Ted Morley 2/48
Ray Paton 2/3 Anti-tank
Ean Sproule 2/32
Ray Vigar 2/28
Bert Wainewright 2/28
A large party disembarked in the U.K. on December 2, 1944 ex Europe and were sent to the Ist AIF reception centre at Eastbourne, Sussex, England.
They included all the above except Lofty Etteridge who had stayed on in hospital in France.
In adddition to the above it included:
"Happy" Hungerford 2/15th
Stan Peebles 2/24th
Danny Black 2/28th
George Mallins 2/28th
J.C. Nelson 2/28th
Gnr Gurbett 2/3 Anti-tank
W. Blair ex Switzerland 2/17th
As nearly all of the 426 AIF POW who had escaped to Switzerland had been repatriated through Naples and the Middle East in September 1944. The reception camp at Eastbourne had been established to handle Australian POW ex Germany and it satellites.
The early arrivals, after MI9 interrogation were give new uniforms, a rail pass good throughout the U.K. a Red Cross parcel and a month's leave.
After VE-Day, a huge influx of POW arrived in Estbourne, as the transport planes were in abundance, lifting 20,000 returning Allied POW in one frantic day.
But by that time, the early arrivals were mainly on their way home.
2/32nd Infantry Battalion
B33 "Britain to Borneo - A history of the 2/32nd Infantry Battalion", Syd Tregillis-Smith, 2/32 Battalion Association, Sydney, 1993.
G34 "For You the War is Over" Unpublished manuscript WX17240 Ted Faulkes.
F6 "Australian Partisan - A "Rat of Tobruk" with the Italian Partisans", VX38618 Ian Sproule, 1997. ISBN 0958669368
Like all Infantry Battalions of the 9th Australian Division, the 2/32 had its fair share of heroes, characters and survivors. They came from every state. The breakdown by states is WX: 1028, VX: 640, QX: 630, NX: 434, SX: 131, TX: 53, DX: 1 and even UKX: 1 - a Doctor who enlisted in the UK.
Of its 225 POW, WX2919 J.C. Flett DOW in Libya, 4 died when the "Nini Bixio" was torpedoed - QX8089 A. Lavercombe, WX11442 R.N. Moir, QX8806 J.F. Tancred and WX14416 T.H. Thompson while NX10075 R.J. Paterson, DOW in a hospital in Greece. WX1982 Cpl "Sox" Symons was shot by an Italian guard at Campo 57 - Gruppignano. VX38618 Ian Sproule and VX37412 Jack Powling, served with the partisans in North Italy, while WX14978 Leslie Parker MID, died of wounds received in action with them. WX10951 Bill Harvey and WX14978 Ernie Wolfe were recaptured and executed by Italian Fascists and lie among those Australians buried in Milan War Cemetery.
VX29769 Don Funston, WX2075 Sgt Alan Berry MM, VX1735 and Sgt Ernie Brough MM, served with the partisans in Yugoslavia. 7 were thought to have reached Allied Lines in Italy while 3 joined the "British Free Corps", from German prison camps.
While at wars end, many of those POW held in Germany or its satellites, escaped from their camps also faced the options of being taken up to Odessa by the Russians for repatriation, making back for the British lines in Italy, or moving to join up with the Americans in Austria and Czechoslovakia, it is the 47 escapee POW in Switzerland from the 2/32nd of whom this Compendium is concerned. Narrator WX17240, John "Ted" Faulkes opens the batting for the Battalion with this beginning of his manuscript - "For You the War is Over".
Acknowledgments and Thanks to:
Doug Baker
Fred Birnie
Jack Calder
Colin Edminston
Ted Faulkes
Ron Maitland
Jack Morris
Jack Nie
Syd Shaw
Jack Wauhop

WX9786 Fred Birnie 2/32nd Inf Bn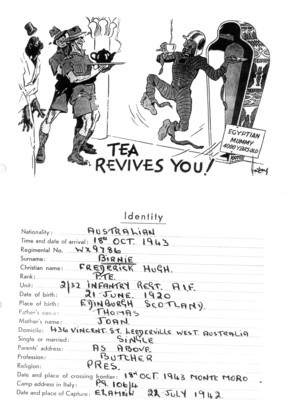 Fred Birnie and his entry group came in to Switzerland via the Monte Moro route and were taken to Brig, but then not on to the British administration centre at Wald, but to a transit "camp" at St. Gallen, and finally to Adelboden, which was the first of the larger "camps", based around their long-unused tourist hotels, whose owners and operators were suffering economically because the lucrative Swiss tourist trade had almost completely dried up.
Adelboden was also the holding centre for an increasing number of U.S. "internees", predominantly airmen of senior NCO or Officer rank for whom their Embassy in Bern had done a deal with the Swiss Government to provide them with more comfortable and permanent accommodation of the standard they had become accustomed to, even on active service. Almost without exception, they were crew-members of the heavy U.S. bombers engaged in daylight raids on Germany and other enemy targets. When for one reason or another, they lost their formation and were forced to "ditch" in Switzerland, their crews were not strictly speaking POW of a hostile power. They certainly had never suffered the rigours and indignities of capture by the enemy, arriving as one envious Australian put it "with the crease still in their pants and after a hearty breakfast at their base camps".
They received full pay and their war was "over" at a time when ultimate victory was becoming a certainty. Adelboden was gradually becoming a "Little America" and the British escapees there were moved out of such big hotels as the Regent, into smaller hotels such as the "Beau Site".
It wasn't long before Fred Birnie became bored with skiing and other snow sports, so he found himself a job with with a local butcher. He had to get permission from the Swiss authorities, which he did on condition that he received no payment. But neither Fred nor the butcher considered that to be a fair deal and the butcher decided to to make a payment anyhow, in meat, which was an extremely scarce item on the rigidly equalitarian Swiss food rationing system. So Fred worked with the Swiss butcher for 10 months. The experience helped him greatly, not only providing him with the means of playing the black market, but also in experience, for when he eventually did resume his profession in Australia, his former boss was amazed at his meat knowledge and skills.
But back in Adelboden, where the Americans ate much better than the British or Australians, Fred was busy delivering the meat orders to the big hotels. He found the job easy and he had plenty of spare time, enough even to fit in other jobs such as cutting firewood for winter storage, and helping to make cheese. The butcher had three sons and one daughter, whom he helped with the family chores and these outside pursuits.
With typical enterprise, Fred found it not difficult at all to make extra francs, and soon he was able to form and finance a sydicate with two South Africans and a Britisher, to help get American airmen out of Switzerland, working as the Italian partisans had done to smuggle escapees into Switzerland, passing his Americans on to a network of Swiss civilians outside Adelboden, financing the operation by selling off their first class flying gear, or exchanging it for civil clothing. He also had a good working arrangement for his weekends.
He had arranged for visits by two Swiss misses to vist him in Adelboden on alternate weekends. This kept him in contact with his group of Swiss civilians, and was a very happy arrangement which lasted for 6 months, when the inevitable happened, and both arrived on the same weekend and "upset the apple-cart". The next time Emma came up to Adelboden, she told Fred she was pregnant. They got married in her home town of Leistal. After the wedding they returned to her home, where she informed him that she was not pregnant at all. After a big argument, Fred returned to Adelboden.
But trouble was already brewing for him from another direction, as on a visit to Bern to see an eye specialist, he was followed back by a Swiss Intelligence Officer, to Frutigen, the border post for the Swiss army "bottling up" the whole valley. Swiss Intelligence had found out about the getaway scheme for U.S. airmen. As the post-bus from Frutigen was approaching Adelboden, Fred walked to the front and asked the driver to let him out as he felt sick. When the driver opened the door, Fred jumped out into the darkness as as he knew the road well and walked back to the Beau Site Hotel. Sgt Charlie Mills, also of the 2/32nd who was his room mate, said "What have you done? I have orders to put you under close arrest".
Next morning Fred had to front up to the British Officer-in-Charge, who passed him on to the Swiss Commandant, who questioned him about his escaping plan. Although he denied any knowledge of his participation, he was sent to Frutigen Military Prison for a week for breaking curfew. The Swiss butcher was very upset, but his wife looked after Fred and had a cake delivered to him every second day!
And luck remained on his side. For it was now September, the border at Geneva was open and the Swiss were arranging the repatriation of their British "evades". Fred missed the first draft on September 10, 1944, but managed to join the later one on October 10, 1943. His Swiss wife followed him out to Australia, but things didn't work out. She returned to Switzerland and they were divorced 5 years later.
WX14636 Ron Maitland 2/32nd Inf Bn
Ron Maitland emigrated to Australia from England in 1919. He cut sleepers and did other bush work until joining up with the 2/32nd when WW11 broke out. He was attached to the 2/28th Inf Bn on the third and final attack on Ruin Ridge, El Alamein and thus became an Italian POW.

Drafted out from Campo 57-Gruppignano to Campo 106 after the Armistice, he briefly joined the partisans around Biella, but eventually escaped to Switzerland via the Monte Moro route together with Clyde Plant of the 2/43rd. They arrived on October 3, 1943 and initially were in "camp" at Wald. Both later went from there to Caux.
Both were to marry Swiss girls, Ron married Ella Vossard who was born in Rueti, near Zurich, and Clyde married Charlotte Stoeckli of Turbental (see "Love Knows No Borders").
After his discharge from the AIF, Ron re-established the painting business he had run before the war and had 30 painters working for him. They had one daughter, who spent 14 years with Qantas, then married and settled in Bowra.
After a severe stroke when 55, Ron and Ella also settled in Bowral.
They revisited Switzerland many times, and Ron actually worked there for three years, during which time he gave lectures on life in Australia.
He is writing a book on his life and war time experiences in Italy and Switzerland, and hopes that Spike Milligan who is a frend of his, will launch. it soon in Australia. [Spike has since died - Ed.]
WX16763 John Nie 2/32nd Inf Bn
John Nie became a POW at El Alamein on July 17, 1942.
Taken back to Benghazi, he eventually landed in Taranto and taken to Campo 51 but finally finished up in Campo 57 Gruppignano, where all Australian other ranks were being assembled. He too was sent out to Campo 106, Vercelli, and was working on a farm when the Italian army surrendered .
For some time after his escape, John Nie and his mate - Norm Bailey of the 2/28th - worked on a farm with an old couple who had a son who was an Italian POW in Australia.
Eventually it became too dangerous for both parties for them to stay on there, and they decided to head off to Switzerland, where he arrived on December 6, 1943, when winter had well and truly set in.
They were sent to a "camp" at Elsau, just outside Winterthur and billetted in a school. The local Swiss were very friendly and entertained their Elsau "guests" very well. Later John was transferred to Arosa where he was quartered in a large tourist hotel. There they went skiing, tobogganing and skating and went to dances to the music of their own band. They also played a lot of soccer.
John and Norm Bailey were still together when they were repatriated from Switzerland to Marseilles on September 23, 1944.
John and his wife re-visited Switzerland some years ago..
WX12267 Syd Shaw 2/32nd Inf Bn
Syd, a survivor of the "Nino Bixio", relates how their Italian guards "scarpered" from their vegetable farm at Vercelli after the announcement of the Italian Armistice.
"They seemed to be more frightened of the Germans than we were. We took off not knowing which way to go, South or North. We decided that Switzerland was the nearest and quickest way to freedom. There were 13 in our group, several from our Battalion Section from El Alamein. Cpl Dave King, a Queenslander, in our unit, was in charge of us. We moved by night only, trying to create as little exposure as possible, but the villagers knew all about us and usually had a hot meal of rice, vegies etc. plus a few frogs at times. They really treated us well.
"It took us 13 days to complete the 85 kilometres. We would never have made it, but for a couple of Alpini soldiers who guided us up over the mountains. They stopped short of taking us to the Swiss border, mainly because of the smuggling which was going on at the time. Two of our group dropped out, the going was so difficult, one eventually made it to Switzerland, the other was collected by the Germans and finished up in an Austrian POW camp.
"After our guides left us, a thick fog descended on us and we couldn't see a thing, so we spent the night huddled under rocks, very, very, cold. Next morning dawned clear with the sun shining. Our landmark, a great heap of snow and ice, quite visible, we made our way up over the border, where there was a great brass bell mounted on a wooden stand. Some way down the mountain a sentry call "halt". We naturally assumed he was a German and muttered about grabbing him, but as we got closer to him, we could see the white cross - Swiss. You beaut! We were in Switzerland!
"We were taken to some little village, where we stayed for a couple of days, before moving to a place called Burglen. We were billetted in a large building, a hall cum gymnasium. I can't remember how long we stayed in Burglen, I know I had my 21st birthday - 4th December 1943 - there. We eventually moved to a place called Heiden up on the German/Swiss border, the top end of Lake Constance. It was good quarters and food - a hot bath once a week - and we were free to move around as we wished. From Heiden we were transferred to Adelboden, where we lived in the Kulm Hotel until we moved out from there on our way home, passing through Geneva Customs on September 23, 1944. For me exactly a year to the day!"
WX9723 Jack Wauhop 2/32nd Inf Bn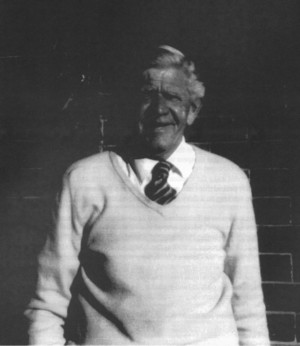 Jack came into Switzerland on foot through the Grand St. Bernard Pass. He was arrested, interrogated, and registered as an "evade" in Martigny and finally sent to the "camp" at Elgg. The local minister's wife was an Australian and invited all the Australians then in Elgg, a total of 14, to afternoon tea. This kind young lady, in her early thirties, came from the city of Orange. "It was the best afternoon tea we'd ever had, and did we enjoy the reminders of "Home" - the boomerangs, toy koalas and kangaroos and running Bondi sand through our fingers from a large glass jar. There were photos galore of Oz and the best of all - our FLAG!
Then a few of us walked over to an advertised gymkana in nearby Frauenfeld. I came back with a Swiss Miss girlfriend. She worked in Zurich and that day was visiting friends in that area. I was a smoker, and from then on, that girl came all the way from Zurich by train to Elgg, bringing me a couple of packets of American "Blue Ribbon" cigarettes every fortnight. She even had an obliging aunt, right in Elgg, who offered a comfortable hideaway! All good things end. A visit by me to a dentist in Winterthur, then off to Benken, near Schaffhausen, where I went to work for the Zuber family. They are still my best friends.
About 12 of them. I share their joys and sorrows. They have visited me a few times here in Forrestfield. I have received, over the years, hundreds of letters, cards, and phone calls from them. Also get frequent letters, Xmas cards and calenders from David and Bertly Turnbull of Elgg. David and I still argue about who peeled the most spuds in the Hirschen Restaurant (since burnt down) where we had our meals. For 3 months I worked (and rested) at "Schoessli", the Benken farm.
After finishing my work contract, I returned by train via Schaffhausen to Elgg. My girl friend resumed her visits to "her aunt in Elgg" with me as a permanent guest. But girl friend started to to be unwell, weakness, dizziness and such. Then with the Allies doing well on the French front, the Reds likewise in the East, and the good old Yanks landing in the South of France, and doing well in Italy, we all moved out of Elgg into Adelboden, where we waited really to be repatriated. Then by train from Geneva to Grenoble. Backstepping a few weeks, I had arranged to meet my girl friend at Zurich station, prior to going to Adelboden. She was tearful and scared that something was seriously wrong, and was going into hospital as soon as I left. Our mutual feelings were growing more profound. I would have gone back to Switzerland, after discharge, but a letter from the girl's sister awaited me when I finally got back to Perth.
My Swiss Miss had passed away, while I was about half way back to Australia.